Sale: 380 / Modern Art, June 04. 2011 in Munich

Lot 34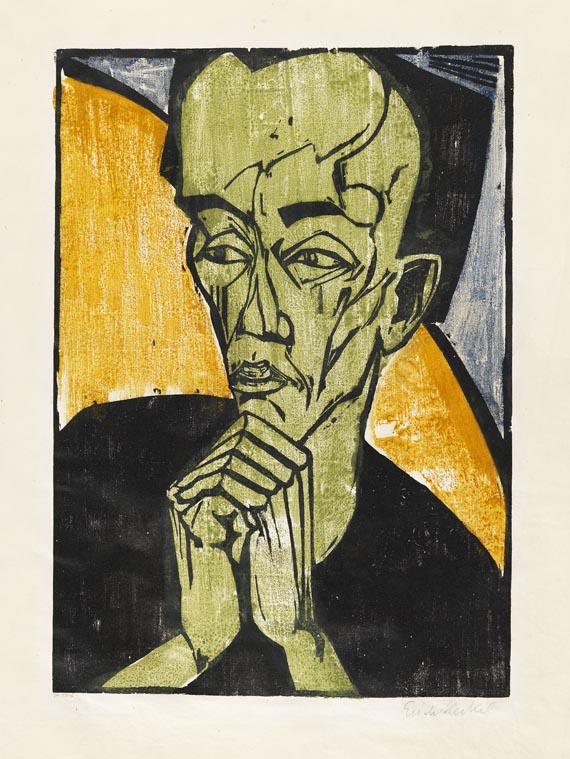 34
Männerbildnis, 1919.
Woodcut in colors
Estimate:
€ 40,000 / $ 40,000
Sold:

€ 65,880 / $ 65,880
(incl. 22% surcharge)
Woodcut in colors
Dube H 318 III B (of III B). Signed and with inscription "gedr. F. Voigt" by printer. On laid paper (with watermark: standing armorial lion). 45,8 x 32,6 cm (18 x 12,8 in)Sheet: 61 x 47,3 cm (24 x 18,6 in).
Hand print (see Dube vol. I, p. 10: "Auch die von den Druckern Felsing und Voigt signierten Drucke sind Handdrucke" Engl.:Also those prints signed by Felsing and Voigt are hand prints. ). On the technique of the woodcut in colors cf. Dube vol. I, p. 9, explanation d. From an unnumbered edition published by J.B. Neumann, Berlin.

In 1904 Heckel began to study architecture at the Technische Hochschule in Dresden but dropped out after only a year. When Heckel joined his fellow artists Karl Schmidt-Rottluff, Fritz Bleyl and Ernst Ludwig Kirchner to form the group known as 'Die Brücke' in 1905, the path was cleared for Expressionism. Heckel now devoted himself to various print-making media, such as the woodcut, lithography and etching. Luminous landscapes in glowing color were the result. In autumn 1911 Heckel moved to Berlin. By then he knew Pechstein, Nolde and Mueller, who had joined 'Die Brücke'. Other contemporaries with whom he was in contact were Marc, Macke and Feininger. In 1912 Heckel and Kirchner decorated the chapel for the Sonderbund exhibition in Cologne. A year later 'die Brücke' was disbanded. Heckel's first one-man show was mounted by Gurlitt in Berlin. From 1915 until 1918 Heckel served as a medical orderly in Flanders.

Expressionist artists make tremendous achievements in the field of print art, it is particularly the woodcut, a beauty woken from its big sleep by Art Nouveau, that now gains full acknowledgment. The simple and yet sophisticated technically mastery of woodcuts is radically approached by the expressionists. In the realization of this sheet, which counts among the master pieces of expressionist woodcuts, Heckel makes use of all the newly won technical opportunities that have emerged ever since the woodcut was liberated from its mere purpose of being an image carrier. The wooden plate's unconventional handling, which is partly applied sawed up in some color parts, is just one example of how creative a traditional technique can be applied. The sharply contoured large-size portrait of a man has a dominating effect due to its concentration of just a few characteristic lines. The asceticism in look and posture of the depicted person is reflected in the coloring, the gray-olive tone of head and hands makes for the basic tint. The two diagonal color fields in the background make for an almost complete contrast, as they trigger a dynamization of the composition. The tension arising between these two components is the most remarkable challenge of a woodcut that stands exemplarily for Expressionism's graphic art.

After World War I Heckel returned to Berlin, where he remained domiciled until early in 1944. Heckel spent most summers on the Flensburger Förde while his many travels took him to the Alps, Southern France, Northern Spain and Northern Italy. 729 of his works were confiscated in German museums in 1937 and his studio in Berlin was destroyed in an air raid in Berlin shortly before the end of the war, destroying all his printing blocks and many of his works. Heckel subsequently moved to Hemmenhofen on Lake Constance. In 1949 he was appointed professor at the Akademie der Bildenden Künste in Karlsruhe, a post that he held until 1955. During this decade the still life became an increasingly important subject in Heckel's work. His style was now calmer, more balanced with an almost lyrical atmosphere. Erich Heckel was honored with exhibitions in numerous German cities in 1953 to celebrate his 70th birthday – and again ten years later on his 80th birthday. Heckel was also awarded numerous prizes: the 'Kunstpreis' of the city of Berlin (1957), of the state of North Rhine-Westphalia (1961) and the 'Großes Bundesverdienstkreuz' (Federal Cross of Merit/1956) at that time Tappert was preoccupied with the mother and child motif and related themes, to which he devoted paintings, photographs and prints. The present painting, which presumably depicts a settlement woman in the peat-cutting region, belongs to this thematic complex. Everything representational has here been summarily reduced to surface forms executed with great verve in powerful brushwork. The approach to the motif differs greatly from that employed by older members of the Worpswede colony. With this new freedom in rendering reality, Tappert emerges from the artists' colony in the Teufelsmoor as the first real Expressionist. [KD].


34
Männerbildnis, 1919.
Woodcut in colors
Estimate:
€ 40,000 / $ 40,000
Sold:

€ 65,880 / $ 65,880
(incl. 22% surcharge)
More offers for Erich Heckel
You might also be interested in
Erich Heckel - lots sold by Ketterer Kunst