Sale: 350 / Modern Art, June 19. 2009 in Munich

Lot 242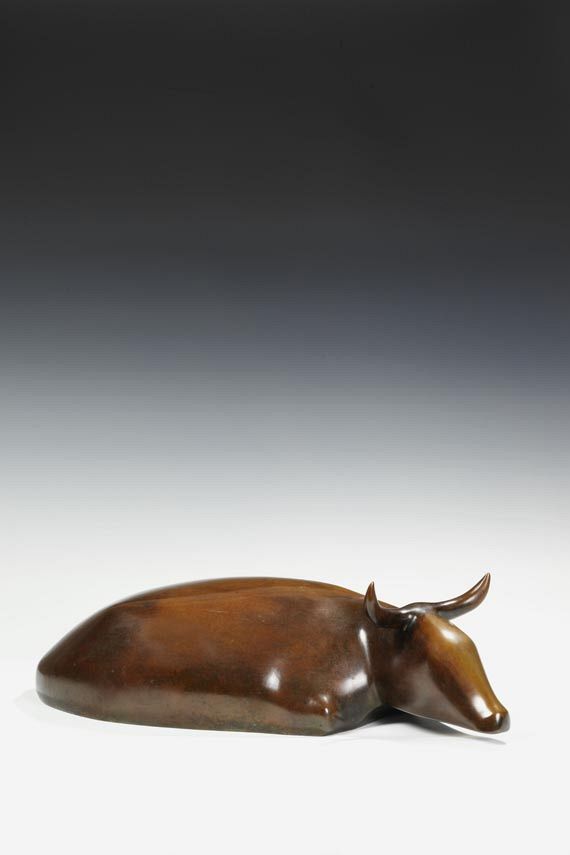 242
Grosse liegende Kuh, 1930.
Bronze
Estimate:
€ 50,000 / $ 52,000
Sold:

€ 103,700 / $ 107.848
(incl. 22% surcharge)
Lot: 242
Ewald Mataré
1887 Aachen - 1965 Büderich bei Neuss
Grosse liegende Kuh. 1930.
Bronze with brown patina.
Schilling 60a. Monogrammed on underside of head. One of presumably 13 copies. 16,8 x 55 x 26 cm (6,6 x 21,6 x 10,2 in).
Further replicas are in possession of the following public collections: Kunsthalle, Bremen; Karl-Ernst-Osthaus-Museum, Hagen - Sammlung Ewald Becker; Städtisches Museum Abteiberg, Mönchengladbach; Haus der Kunst, Munich; Museum Stuttgart.

PROVENANCE: Galerie Klihm, Munich.
Private collection South Germany.

EXHIBITION: International exhibition: Plastik. Skulpturen in Zürich, ex. cat. Kunsthaus Zürich, 25 July - 30 September 1931, p. 28, no. 127.
Gerhard Schön, Die Kuh des Mataré, in: Das Kunstwerk, 1949, issue 8, p. 33 (with illustration).
Ewald Mataré. Skulpturer Träsnit 1921 - 1953, ex. cat. Svens-Franska Konstgalleriet Stockholm, January 1954 cat. no. 29.
Malerei, Plastik, Graphik, collection cat. Karl-Ernst-Osthaus-Museum Hagen 1961, p. 44.
Mataré, ex. cat. Stedelijk Museum, Amsterdam/Rijksmuseum Twenthe, Enschede, March - June 1964, no. 29.
Ewald Mataré. Skulpturen, Holzschnitte, Aquarelle 1920 bis 1965, ex. cat. Kölnischer Kunstverein, Cologne, 4 March - 11 April 1966, no. 19 (with illustration).

LITERATURE: Ewald Mataré. Plastiken, Kunsthandwerk, Handzeichnungen, Aquarelle, Graphik, ex. cat. Städtische Kunsthalle, Düsseldorf, 27 June - 25 July1967, no. 27.
Mataré. Der Brunnen, ex. cat. Bürgerhalle Hagen, 24 September - 14 October 1967, no. 8.
Ewald Mataré, ex. cat. Dom Galerie Cologne, 7 May - 11 June 1969, no. 13.
Ewald Mataré, ex. cat. Kritzraedthuis Sittard, 28 March - 27 April 1969, no. 14.
Deutsche Bildhauer 1900-1933. Plastik und Graphik, ex. cat. Wilhelm Lehmbruck-Museum, Duisburg 1976, no. 119.
Ewald Mataré. ex. cat. Pfalzgalerie Kaiserslautern/Städtische Museen, Heilbronn, August - December 1981, no. 26 (with illustration).

Born in Aachen in 1887, Ewald Mataré trained in his native city under the painter Eugen Klinkenberg before attending the Berlin Art Academy from 1907. In 1912 he transferred to the master class taught by Arthur Kampf, who is regarded as an outstanding "academician". Mataré worked for six months for Lovis Corinth in 1914 but failed to be convinced by the latter's Impressionist style of painting. After the first world war, in 1920, an important change took place in Mataré's work. Although he had had years of classical academic training in painting, he now turned to printmaking and sculpture. Animal sculpture would become his trade mark. Instead of spontaneously expressing subjective experiences and moods, Mataré sought clarity and objectivity of form in both his sculpture and his woodcuts. In this respect, Mataré's work is related to the organic abstraction of Hans Arp and Constantin Brancusi.
Our sculpture is so fascinating because it represents the fusion of creaturely qualities and abstraction, which, coupled with a subtle handling of surfaces, conveys an aura of infinity and timelessness. One can look at Mataré's sculpture from any angle one will; formally perfect harmony is invariably there, engendered by a judiciously handled complementarity of material and form. Mataré's sculptures invite one to touch them. Viewed in this light, they are social creatures yet utterly different to conventional animal sculpture because they are neither cloyingly sweet nor faithful to nature in form. Mataré himself said the following about this sculpture, the original of which he carved in wood in 1938: "as I observe that also in cows chewing their cud, the whole body has something pear-shaped about it, in fact an elongated egg that gradually tapers out to the front. In all those forms, which I accentuate here and there, there are no imagined notions, but I make all of them precisely as I have observed them" (quoted in: Schilling, p. 163).
In 1932 Mataré was appointed to teach at the Staatliche Kunstakademie in Düsseldorf but was dismissed only a year later on the basis of National Socialist propaganda. All his publicly displayed sculptures were destroyed. Once the war was over, he was invited back to the Academy. Mataré exerted a formative influence on Joseph Beuys, who was perhaps his most famous pupil. While Mataré was still alive, the Stedelijk Museum in Amsterdam mounted a retrospective of his work. Ewald Mataré died in Büderich near Düsseldorf at the age of seventy-eight. [KD].

In good condition.

EUR: 50.000 - 70.000 DIFF.(19%)
US$: 68.200 - 95.480


242
Grosse liegende Kuh, 1930.
Bronze
Estimate:
€ 50,000 / $ 52,000
Sold:

€ 103,700 / $ 107.848
(incl. 22% surcharge)
More offers for Ewald Mataré
You might also be interested in
Ewald Mataré - lots sold by Ketterer Kunst