Sale: 350 / Modern Art, June 19. 2009 in Munich

Lot 228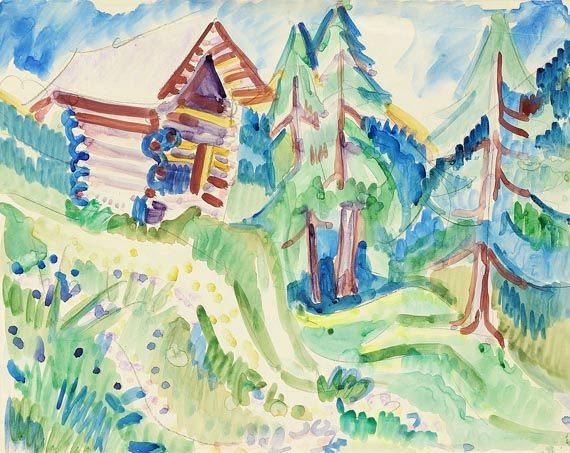 228
Staffelalp, 1917.
Watercolour
Estimate:
€ 40,000 / $ 47,600
Sold:

€ 68,320 / $ 81.300
(incl. 22% surcharge)
Lot description
Lot: 228
Ernst Ludwig Kirchner
1880 Aschaffenburg - 1938 Davos
Staffelalp. Um 1917-19.
Watercolor and chalk.
With estate stamp of the Kunstmuseum Basel (Lugt 1570 b) on verso and with the handwritten registration number "A Da/Aa 67". On creme paper. 41 x 52,5 cm (16,1 x 20,6 in), the full sheet.

The work is documented in the Ernst Ludwig Kirchner Archiv, Wichtrach/Bern.

PROVENANCE: Private collection South Germany.

After completing his architecture course in Dresden, during which he became acquainted with Fritz Bleyl, Erich Heckel und Karl Schmidt-Rottluff and began to collaborate with them, Ernst Ludwig Kirchner opposed his father's wishes and opted for painting as a career. The intensive exchange of ideas among the four friends led to the founding of the artist collective known as "Brücke" in 1905 with the aim of "attracting all forces fomenting revolution" (Schmidt-Rottluff). The artists started with "quarter-hour nudes", drawing from the model in the studio or outdoors. At first the group was oriented towards Late Impressionism; however, the discovery of the Fauves, Oceanic art and van Gogh's work induced the four painters to turn to Expressionism. The group's style was lastingly affected by an encounter with Italian Futurist art around 1910. It became "harsher". Ernst Ludwig Kirchner studied the sculpture at the Dresden Ethnographic Museum. Impressed by it, Kirchner carved and cut sculptures of wood. Ernst Ludwig Kirchner moved to Berlin in 1911. The urban environment of a metropolis provided Kirchner with a wealth of fresh motifs, which he translated into simplified, crisply contoured forms, expressive qualities and lurid color contrasts. His urban pictures became Expressionist incunabula and made Ernst Ludwig Kirchner one of the most important German artists of the 20\up6 th century.The outbreak of World War I and the following years mark a turning point in Kirchner's life. The war events and military service create a certain 'Existenzangst' in him and finally lead to illness and to longer stays in sanatoriums. However, his artistic production during those days is outmostly remarkable. In 1917 Kirchner resides in Frauenkirch near Davos.
Kirchner soon left the urbane spa to withdraw to the solitude of the mountains. In June and August 1917, he rented a chalet on the Staffelalp above Davos, where he did his first drawings and woodcuts featuring mountain landscapes and motifs drawn from the life of the Alpine peasants. His art would now centre on his immediate experience of the mountains. His impressions of the Swiss Alps, however, did not merely stabilise Kirchner's emotional state; they also spurred him on to renewed creativity. Kirchner was well aware of the positive effect his new surroundings had on him, affirming in 1919: "Good old van de Velde wrote to me today, I'd be better off returning to modern life. [...] I refuse to consider that. [...]. Here I have such a rich field for my creative activities that I can hardly handle it when I'm healthy, let alone today. The world with all its charms is everywhere the same; only the external forms differ. And here one learns to see more profoundly and to penetrate further than in that so-called 'modern' life, which, despite its rich external form, is usually so much more superficial." (quoted in: Lucius Grisebach: Ernst Ludwig Kirchner 1880-1938, Cologne 1995, p. 153). The tranquillity of our Alpine landscape devoid of human presence is disrupted by a vibrantly expressive palette, energetic handling and the exaggerated form of the Alpine chalets and the firs. The precarious equilibrium between calm and turbulence heightens this landscape to an impressive psychogram.
Around 1920 his expressive handling became calmer and his pictures were given a tapestry-like surface quality. He also produced an important body of graphic works in the form of woodcuts, lithographs and pen drawings. In 1923 Ernst Ludwig Kirchner moved into the "Haus auf dem Wildboden" at the head of the Sertig Valley, where he lived and worked until he took his own life in 1938. [JS].

In very good condition. Slightly scuffed along upper edge.

EUR: 40.000 - 60.000 DIFF.(19%)
US$: 54.560 - 81.840


228
Staffelalp, 1917.
Watercolour
Estimate:
€ 40,000 / $ 47,600
Sold:

€ 68,320 / $ 81.300
(incl. 22% surcharge)
More offers for Ernst Ludwig Kirchner

You might also be interested in

Ernst Ludwig Kirchner - lots sold by Ketterer Kunst