Sale: 360 / Modern Art, Dec. 12. 2009 in Munich

Lot 110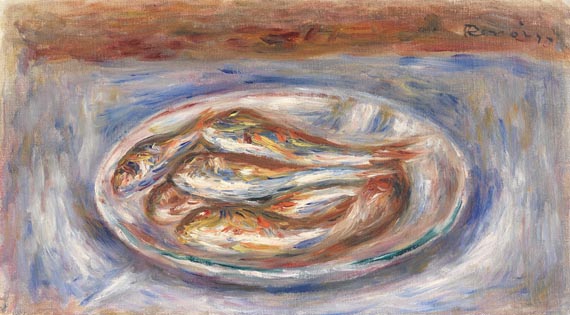 110
Assiette de Provence, 1915.
Oil on canvas
Estimate:
€ 50,000 / $ 55,000
Sold:

€ 58,560 / $ 64,416
(incl. 22% surcharge)

Oil on canvas
Signed upper right. 21,4 x 38 cm (8,4 x 14,9 in).

This work is accompanied by a confirmation from the Wildenstein Institute, Paris, from 2 July 2009. It will be included in the catalog of works by Pierre-Auguste Renoir, which will be compiled based on the archive documents of François Daulte, Durand-Ruel, Venturi, Vollard and Wildenstein.
With a certificate of authenticity by Ms Hildegard Fritz-Denneville, Fine Arts Ltd. London (in copy).

PROVENANCE: Collection Lt. Co. James Landon.
Richard Nathanson.
Private collection Berlin.

EXHIBITION: Exposition d'Art Francais Contemporain, Galerie Georges Giroux, Brussels 1947 (with gallery's label on stretcher).
Exposition de L'Impressionisme. Cercle Royal Artistique & Litteraire, Gent 1947 (with stamp on stretcher).

LITERATURE: Ambroise Vollard, Pierre-Auguste Renoir.Tableaux, Pastels et Dessins. Vol. 1, Paris 1918, no. 281.

Pierre-Auguste Renoir's popular and prolific œuvre with its joyously idyllic pictures, graphics, pastels and sculptures has come to exemplify French Impressionism. He began his career as a china painter in Paris, where his family had settled in 1854. From 1861 he frequented the studio of Charles Gleyre, where he met Frédéric Bazille, Claude Monet and Alfred Sisley. He and Monet took the momentous decision in 1862 to paint in the open air in the Forest of Fontainebleau, where they encountered exponents of the Barbizon School. Renoir now began to model his work on that of Gustave Courbet and Eugène Delacroix, while also continuing to explore new departures in painting, experiments that gave rise to his first Impressionist plein air works. As a founding member of the artist's group, he took part in exhibitions of the Impressionists which scandalised Paris. The decade that followed was the heyday of Renoir's painting who had totally committed himself to the Impressionist style. Since the art dealer Durand-Ruel regularly bought his paintings, Renoir was able to go on travels abroad, such as to Algeria and Italy in 1881. In the 1880s Renoir strove to consolidate his sense of form and cultivated closed contours in the late classical manner of Ingres. Later he would return to a lighter, Impressionist style and attained artistic maturity. Around 1900, when a retrospective exhibition at the Autumn Salon in Paris (1904) consolidated his reputation, Renoir fell ill with gout. The artist, who more and more withdrew to the South of France, mainly to Cannet and Cagnes, shows with his young female nudes the great debt owed by the late Renoir to Rococo.

The subject of this still life, which says more about the painter than one might at first suspect, is a small plate of Mediterranean fish, wrasse or gilt-head (sea) bream. Renoir has discovered that fruits de mer awaiting preparation for the table are picture-worthy. From the modest motif he has coaxed a subtle palette, which corresponds most pleasingly with that of the table on which the plate is placed. Renoir, who interpreted his works in sumptuous color unmatched by the Impressionists, has here described the ingredients of a meagre midday meal. Just a few colors, especially blues and reds supported by white form the visual framework for this little composition. In old age, Renoir, who suffered so severely from rheumatism by then that he could hardly use his hands to paint with, delighted in simple motifs, ennobling them with his inimitable signature brushwork that, despite all hardships, had not abandoned him.

Pierre-Auguste Renoir, who always presented man and nature from their joyously idyllic sides, died in Cagnes near Nice on 3 December 1919. [KD].


110
Assiette de Provence, 1915.
Oil on canvas
Estimate:
€ 50,000 / $ 55,000
Sold:

€ 58,560 / $ 64,416
(incl. 22% surcharge)
You might also be interested in
Pierre-Auguste Renoir - lots sold by Ketterer Kunst