Sale: 342 / Modern Art / Sideways, Dec. 03. 2008 in Munich

Lot 275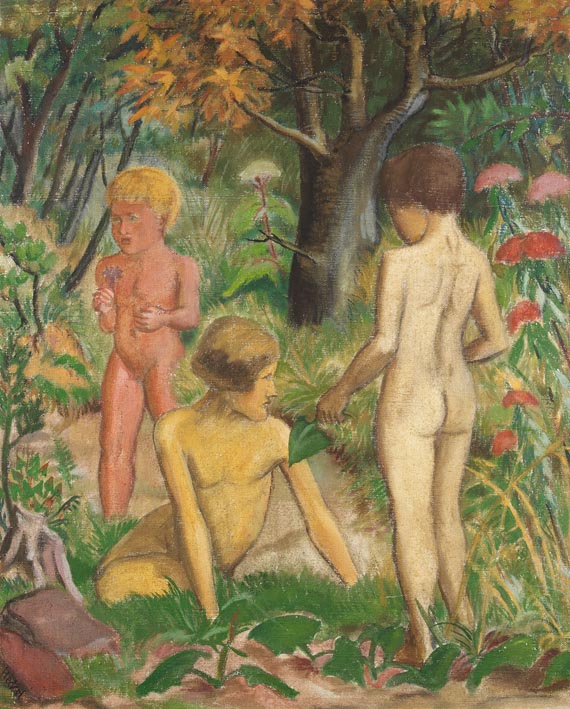 275
Kinder, 1925.
Oil on burlap
Estimate:
€ 60,000 / $ 69,600
Sold:

€ 65,880 / $ 76.420
(incl. 22% surcharge)
Lot description
Kinder. 1925/26.
Oil on burlap.
Vogt 1925/5. Signed lower left. Once more signed and dated on the reverse. Signed, dated and titled on the stretcher. 120,5 : 96,5 cm (47,4 : 37,9 in). In 1904 Heckel began to study architecture at the Technische Hochschule in Dresden but dropped out after only a year. When Heckel joined his fellow artists Karl Schmidt-Rottluff, Fritz Bleyl and Ernst Ludwig Kirchner to form the group known as 'Die Brücke' in 1905, the path was cleared for Expressionism. In autumn 1911 Heckel moved to Berlin. By then he knew Pechstein, Nolde and Mueller, who had joined 'Die Brücke', then he met with Marc, Macke and Feininger. In 1912 Heckel and Kirchner decorated the chapel for the Sonderbund exhibition in Cologne. A year later 'die Brücke' was disbanded and Heckel's first one-man show was mounted by Gurlitt in Berlin. From 1915 until 1918 Heckel served as a medical orderly in Flanders and then returned to Berlin, where he remained domiciled until early in 1944.
The innovative drive manifest in the works Erich Heckel produced while a member of "Die Brücke" yielded in later years to a more mellow conception of colour and form. From 1919 Heckel spent the summer months in Osterholz. The casual lightness of life in summer became an important theme in his work. "Gläserner Tag" ["Glassy Day": 1913] retains the accumulated force of an expressive pictorial language. In the years after the First World War, on the other hand, a bucolic tinge gained the upper hand in his pictures. There are echoes of works by Otto Mueller in our painting and this observation holds not only for the composition but also for the technique of execution. The matt colour surface is reminiscent of Mueller's distemper and the use of hessian as a support is also encountered in Otto Mueller's paintings. However, Heckel remained true to himself in his portrayals of people. His figures are staffage rather than dominant components of the picture. They fit so easily into their pervasive natural environment that they seem to be part of it. Heckel never abandoned this approach once he had embarked on it. His years of struggle lay behind him.
729 of his works were confiscated in German museums in 1937 and his studio in Berlin was destroyed in an air raid in Berlin shortly before the end of the war, destroying all his printing blocks and many of his works. In 1949 he was appointed professor at the Akademie der Bildenden Künste in Karlsruhe, a post that he held until 1955. Erich Heckel was honoured with exhibitions in numerous German cities in 1953 to celebrate his 70th birthday - and again ten years later on his 80th birthday. Heckel was also awarded numerous prizes: the 'Kunstpreis' of the city of Berlin (1957), of the state of North Rhine-Westphalia (1961) and the 'Großes Bundesverdienstkreuz' (1956). [KD]
PROVENIENZ: Galerie Wittrock, Düsseldorf (with the label on the reverse).
Private collection North Germany.
In good condition.
275
Kinder, 1925.
Oil on burlap
Estimate:
€ 60,000 / $ 69,600
Sold:

€ 65,880 / $ 76.420
(incl. 22% surcharge)
More offers for Erich Heckel
You might also be interested in
Erich Heckel - lots sold by Ketterer Kunst