Sale: 343 / Post War / Contemporary Art, Dec. 04. 2008 in Munich

Lot 519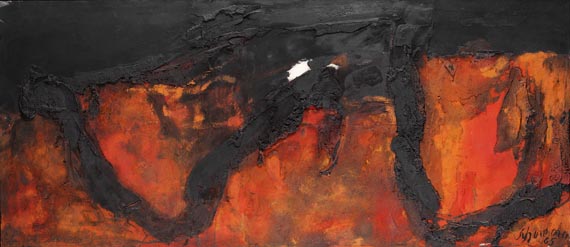 519
Mabudan, 1965.
Oil
Estimate:
€ 150,000 / $ 159,000
Sold:

€ 164,700 / $ 174,582
(incl. 22% surcharge)
Mabudan. 1965.
Oil with collaged canvas on panel.
Signed and dated lower right. titled and with inscription of the measurements on the stretcher. 77 : 179 cm (30,3 : 70,4 in). [AS] Born in Hagen, Westphalia, in 1912, Emil Schumacher embarked at the age of twenty on a three-year course in commercial graphics at the Kunstgewerbeschule in Dortmund. He freelanced as a painter from 1935. In 1939 he was conscripted to work as a technical draughtsman at an armaments plant in Hagen and remained there until 1945. In 1947 Schumacher and several fellow painters co-founded "junger westen", an artists' association formed for the purpose of exhibiting its members' work. Schumacher had his first solo show in 1947. Schumacher went to Paris in 1951 and met Pierre Soulages. In 1955 Schumacher showed work at the Cercle Volney exhibition "Peintures et sculptures non-figuratives en Allemagne d'aujourd'hui" in Paris. He also participated in the group shows mounted by the "ZEN 49" group in 1955 and 1956-57. The following year, 1957-58, Schumacher was represented by works at the seminal exhibition entitled "Eine neue Richtung der Malerei" at the Städtische Kunsthalle in Mannheim.
Around 1950 a radical shift took place in Schumacher's work. He abandoned the object as his pictorial motif to concentrate on the powers of expression inherent in painting itself. Colour grew into a pictorial factor in its own right. This biographical and aesthetic process took place against the background of a style at the time informed by the École de Paris and Tachism in France and Action painting in the US. If abstraction is, on the one hand, a sign of the times, it became for Schumacher, on the other hand, a feature of his own personal signature, of his style.
His sweeping gestural handling of line, rough surfaces and fissured materials have earned Schumacher's pictures the acolade "pictures from inside the world". Our work is informed by a palette that is particularly highly charged, contrasting black with a range of powerful reddish orange tones and heightened with white. Further, the grainy pastose application of paint mixed with sand contrasts with the skin-like texture of the dried oil paint, thus creating a dazzling variety of light refractions on the picture surface. The artist really does seem to have turned his painting inside out, giving us glimpses into worlds hidden within. At the same time, Schumacher's works inspire free association and intellectual interpretion in a visual process.
In the late 1960s and early 1970s, Schumacher experimented with a stringent Actionism, expressed primarily in his Hammer Pictures. Injuring and damaging the picture support gave him the possibility of using destruction itself as an inner-pictorial aesthetic device. From the time Schumacher took part in the 1964 documenta III in Kassel until on into the 1980s, he produced pictures in extremely large formats manifesting supreme freedom of handling. Schumacher's late works from the 1990s, in which the representational is unequivocally, albeit vaguely, present, the artist has resolved the dichotomy between abstraction and figuration.
As one of the most important exponents of Informel, Emil Schumacher was internationally acclaimed from the mid-1950s and showered with awards. In 1958 he was appointed professor at the prestigious Hochschule für Bildende Künste in Hamburg and in 1966 he became a professor in Karlsruhe. In 1967 he spent a year in the US as a visiting university professor in Minneapolis. The German Bundestag honoured him in 1998 with a commission for a mural in the Berlin Reichstag Building. A year after the grand Munich retrospective, Emil Schumacher died in San José on Ibiza on 4 October 1999.
EXPERTISE: We are grateful to Dr. Ulrich Schumacher, Emil Schumacher Stiftung Hagen, for his help in cataloguing this lot. The work is recorded in the archive under the no. 0/3113 and will be included in the forthcoming catalogue raisonné
PROVENIENZ: Gallery Haaken, Oslo (with inscriptions on the stretcher).
AUSSTELLUNG: Emil Schumacher und das Materialbild, Galerie von Braunbehrens, Munich, 1998 (with colour plate in the catalogue).
In very good condition. Upper left corner with tiny chipping.
519
Mabudan, 1965.
Oil
Estimate:
€ 150,000 / $ 159,000
Sold:

€ 164,700 / $ 174,582
(incl. 22% surcharge)
More offers for Emil Schumacher
You might also be interested in
Emil Schumacher - lots sold by Ketterer Kunst