Sale: 343 / Post War / Contemporary Art, Dec. 04. 2008 in Munich

Lot 656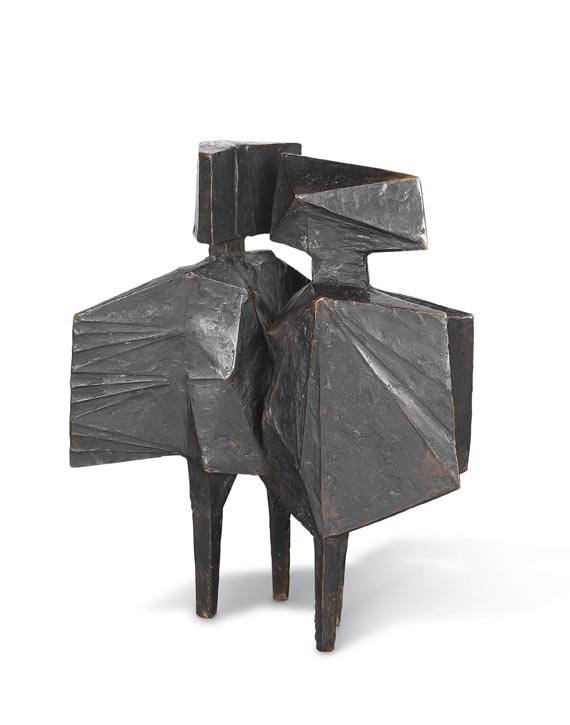 656
Conjunction XIV, 1970.
Bronze
Estimate:
€ 40,000 / $ 40,000
Sold:

€ 50,020 / $ 50.020
(incl. 22% surcharge)
Conjunction XIV. 1970.
Bronze with black brown patina.
Farr/Chadwick 599. With the artist's name, date, number 3/6 and the worknumber. 61,5 : 50,5 cm (24,2 : 19,8 in). Lynn Russell Chadwick was born in London on 24 November 1914. After attending the Merchant Taylor School and a stay in France, Chadwick worked for several London architect's practices between 1933 and 1939. At that time he focused on techniques of draughtsmanship and watercolour as well as oil painting. During the second world war Chadwick volunteered as a Royal Navy pilot and served between 1941 and 1945. On his return to London, he began to experiment with mobiles. Collaboration with the architect Rodney Thomas proved a formative influence on Chadwick and from 1951 Chadwick received commissions for sculpture. He also had a solo show in 1950.
For his figures, Lynn Chadwick mainly used pieces of iron welded together, which, as mobiles, are reminiscent of Calder's work but as stabiles filled with concrete stand on long legs and resemble a cross between abstract constructs and figurative skeletal beings. Chadwick achieved instant recognition in the 1950s when his objects were awarded numerous prizes and were shown at exhibitions of international stature. Chadwick received commissions for more monumental sculptures, gradually transforming his rough, often aggressive-looking animal figures into softer compositions with anthropomorphic features. While continuing to do standing figures, Chadwick turned increasingly often to recumbent or seated pairs of figures. At home in Lypiatt Park, Gloucestershire, Chadwick established a sculpture park of his own.
Our bronze figures, addressing each other in complicit intimacy, speak the formal language that is distinctively Lynn Chadwick's. For all the high degree of abstraction, the facial features and the body language characterising a man and a woman are evident. At the same time, these figures reveal the pointed forms and slanting surfaces that early on in Chadwick's career became his stylistic hallmark. The massiveness of the figures is counteracted by delicate legs and winged arms that reach so far out that the artist has attained an excitingly taut equilibrium.
Although his work was in its heyday in the 1950s, Chadwick continued to develop his figures within the context of his material idiom until the century closed. By the time Lynn Chadwick died in Stroud, Gloucestershire on 25 April 2003, he was one of the best-known sculptors of the post-war era. [NB]
PROVENIENZ: Private ownership North Rhine-Westphalia.
Good overall impression. Minimally shop-soiled. Partially with soft to minor traces of rubbing and oxidation respectively. Two undersides padded.
656
Conjunction XIV, 1970.
Bronze
Estimate:
€ 40,000 / $ 40,000
Sold:

€ 50,020 / $ 50.020
(incl. 22% surcharge)
You might also be interested in
Lynn Chadwick - lots sold by Ketterer Kunst