Sale: 342 / Modern Art / Sideways, Dec. 03. 2008 in Munich

Lot 233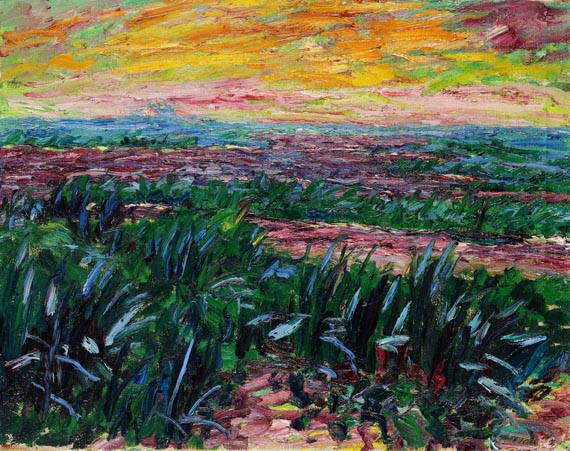 233
Landschaft, 1909.
Oil on burlap
Estimate:
€ 800,000 / $ 848,000
Sold:

€ 900,000 / $ 954,000
(incl. 20% surcharge)
Landschaft. 1909.
Oil on burlap.
Urban 301. Signed lower right. Once more signed and titled "Landschaft" on the stretcher. 65,5 : 83 cm (25,7 : 32,6 in). Emil Hansen, who adopted the name of his birth town as his artist name at a later date, completed an apprenticeship as a furniture designer and wood carver. He was employed as a teacher of industrial drawing at the Gewerbemuseum (Industrial Museum) in St. Gallen in 1892. In 1898 Nolde decided to become a painter, but the academy under Franz von Stuck dismissed him. He joined Adolf Hölzel in Dachau in 1899 to become his pupil and went to Paris in 1900 to increase his knowledge at the Académie Julien. In 1903 Nolde settled on the Baltic island Alsen. Nolde studied the Neo-Impressionists Vincent van Gogh, Edvard Munch and James Ensor, which, around 1905, gradually led to the discovery of his own style with a strong emphasis on colour. In 1906 Nolde met the painters of 'Die Brücke', a group he joined briefly in the same year.
Our painting dates from one of the most productive phases in Nolde's long and prolific career. Each year saw Nolde producing fifty to eighty paintings, not to mention numerous watercolours and drawings. As a painter, he used the aesthetic means at his disposal with assurance and was a virtuoso of handling. Early in 1909, Nolde left his fisherman's cot on the island of Alsen, abandoning the idyllic Baltic coast for the more harsh scenery of the North Sea coast, where he settled in the village of Ruttebüll, which is not far from the sea. This region, whose attractions are not instantly discernible, was the ideal place for embarking on the communication between "painter, reality and picture" that Nolde sought to achieve. Despite the presence of familiar objects for reference, including tufts of marsh grass, the sea and the wide line of the horizon, our picture is not a copy of nature, not a reproducing description of any natural phenomenon but rather an image of nature that has been heightened beyond reality. In the free handling of the colours spread carpet-like to form a vibrant surface and through the visibly traceable movements of his brush, Nolde has generated an entirely new, intensely glowing "landscape of the soul", which is also an image of himself.
Nolde took part in an expedition to the South Seas in 1913, which he worked up in numerous works until 1915. Defamed by the national Sozialists and banned from exhibiting his works since 1941, Nolde spent the years 1939 to 1945 in Seebüll painting his 'unpainted paintings', watercolours, which he took on in his oil paintings after 1945. Nolde died on 13 April 1956 in his house in Seebüll [KR]
PROVENIENZ: Private collection Hamburg (acquired directly from the artist in 1909 and ever since in family possession, with an old label on the stretcher).
AUSSTELLUNG: Werke neuerer Kunst aus Hamburger Privatbesitz, Hamburger Kunsthalle 1917, cat.no. 88.
Rohlfs, Nolde, Barlach, Kunstverein Kiel, 1920, cat.no. 78.
Emil Nolde, Kestner-Gesellschaft, Hannover 1948, cat.no. 1.
Since 2005 on loan at the Berlinische Galerie, in the following exhibitions:
Brücke - Die Geburt des Deutschen Expressionismus. 200 Meisterwerke aus internationalen Sammlungen, 1 October 2005-15 January 2006.
Flic Flac - Kunst aus Berlin. 100 Jahre Kunst im Überschlag, 24 February 2006-12 March 2007.
Grafik im Licht, 20 July 2007-7 January 2008.
Berlin im Umbruch, Bildende Kunst, Fotografie, Architektur, as of 25 January 2008.
This work is recorded in four registries of paintings by the artist: in registry 1910 a under the number 195, 1910 b under the number 196, 1910 c under the number 217 and 1930 under "1909 Landschaft"
Colours still fresh. Stretcher partly minimally pushing through. Partially with soft vertical craquelé. Isolated tiny colour losses on the upper part as well as on the edges, partly retouched, not interfering with the overall impression.
233
Landschaft, 1909.
Oil on burlap
Estimate:
€ 800,000 / $ 848,000
Sold:

€ 900,000 / $ 954,000
(incl. 20% surcharge)
More offers for Emil Nolde
You might also be interested in
Emil Nolde - lots sold by Ketterer Kunst