Sale: 330 / Modern Art / Post-War, Dec. 05. 2007 in Munich

Lot 421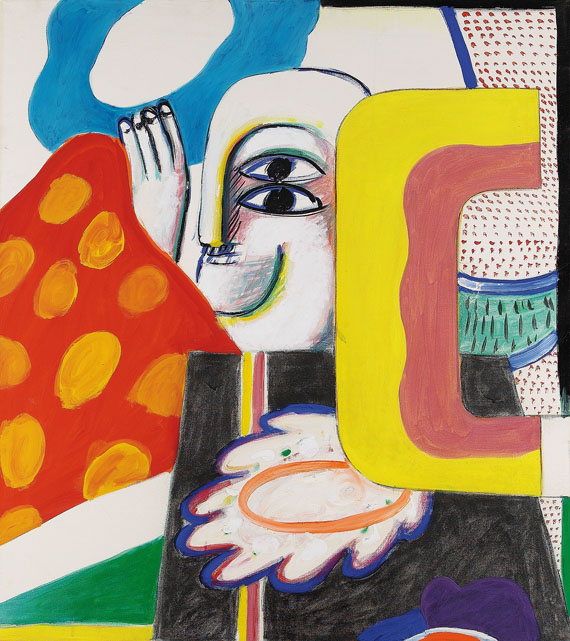 421
Interieur mit Stillleben, 1964.
Oil on canvas
Estimate:
€ 90,000 / $ 99,000
Sold:

€ 118,800 / $ 130,680
(incl. 20% surcharge)
Interieur mit Stillleben. 1964.
Öl auf Leinwand.
Auf dem Keilrahmen hs. betitelt und bezeichnet "Nr. 125". 90 x 80 cm ( 35,4 x 31,4 in).
PROVENIENZ: Galerie Krugier & Cie., Genf.
Galerie de Seine, Paris (auf dem Keilrahmen mit dem Etikett).
Sammlung H. Marc Moyens, USA.
Privatsammlung Süddeutschland.
Ausstellung: documenta III, Kassel, 27.6.-5.10.1964, Bd. 1, Kat.Nr. 2, mit Abb. (auf dem Keilrahmen mit dem Etikett).
Corcoran Gallery of Art, Washington D.C., 12.12.1969-18.01.1970.
Gallery K, Washington D.C. (auf der Rahmenabdeckung mit dem Etikett).
Remembering Marc & Komei, The Katzen, American University Museum College of Arts & Sciences, Washington D.C., 18.01.-12.03.2006 (auf der Rahmenabdeckung mit dem Etikett).
Horst Antes studiert von 1957 bis 1959 an der Akademie der Bildenden Künste in Karlsruhe bei dem bedeutenden Holzschneider HAP Grieshaber, der entgegen dem Zeitgeist an der Figuration festhält. Dennoch ist Antes' Ausgangspunkt vor allem im Informel und dessen gestischer Ausdrucksgebärde zu suchen. In Willem de Kooning, der informelle und figurative Elemente verknüpft, findet Antes ein Vorbild, das für seine Suche nach einem eigenen Weg richtungsweisend wird. Aus vehement hingeworfenen Farbstrukturen entwickelt er um 1960 stufenweise die Figur des "Kopffüßlers", eine Form, die ihn seitdem in zahllosen Variationen und Abwandlungen sowie verschiedenen künstlerischen Techniken beschäftigt. In den 1960er Jahren erhält der Künstler mehrere Auszeichnungen und Stipendien, darunter 1962 den Villa-Romana-Preis in Florenz und im Folgejahr das Stipendium der Villa Massimo in Rom.
Ein Jahr vor der Entstehung des vorliegenden Gemäldes ist Antes' Kopffüßler mit neuen inhaltlichen und stilistischen Aspekten voll ausgeprägt. In dieser Zeit verfestigt sich die später wieder aufgegebene Profilansichtigkeit und die Form gewinnt gegenüber der Farbe an Bedeutung. Die Figur ist nun endgültig zum alleinigen Thema und Motiv seiner Bilder aufgestiegen, der sich alle übrigen Elemente unterordnen. "Neben der Menschengestalt bleibt das Beiwerk mehr oder weniger marginal. Landschaft und Stilleben erhalten allein aus dem Bezug zur Figur ihren Sinn" (Joachim Büchner, in: Künstler. Kritisches Lexikon der Gegenwartskunst, München 1990, S. 3). Dies gilt auch für unser Gemälde, in dem der Kopffüßler, farblich zurückgenommen und in den Hintergrund gedrängt, dennoch die Komposition beherrscht und die einzelnen Elemente zueinander in Beziehung setzt.
Von 1965 bis 1971 lehrt Horst Antes an der Karlsruher Akademie, unterbrochen durch eine Gastprofessur in Berlin 1968. 1984 nimmt er seine Lehrtätigkeit an der Akademie in Karlsruhe für weitere 16 Jahre auf. Seit 1990 lebt und arbeitet der Künstler in Karlsruhe, Florenz und Berlin. Seine Arbeiten werden weltweit ausgestellt und sind in den größten Sammlungen Deutschlands vertreten. [RS]
Zustand: In guter Erhaltung. Vereinzelte kleinere Farbabplatzungen, teils retuschiert. Weiße Farbflächen am linken und oberen Rand partiell minimal angeschmutzt.
421
Interieur mit Stillleben, 1964.
Oil on canvas
Estimate:
€ 90,000 / $ 99,000
Sold:

€ 118,800 / $ 130,680
(incl. 20% surcharge)
More offers for Horst Antes
You might also be interested in
Horst Antes - lots sold by Ketterer Kunst