Sale: 315 / Modern Art, June 12. 2007 in Munich

Lot 166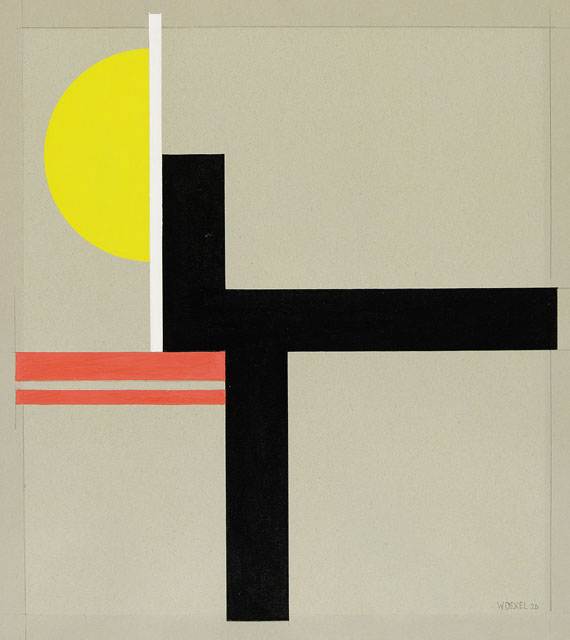 166
Komposition mit gelber Halbscheibe, 1926.
Gouache
Estimate:
€ 10,000 / $ 11,000
Sold:

€ 13,200 / $ 14,520
(incl. 20% surcharge)
Komposition mit gelber Halbscheibe. 1926.
Gouache und Tusche über Bleistift.
Wöbkemeier 311. Rechts unten signiert und datiert, links unten betitelt. Verso wohl eigenhändig signiert, datiert und betitelt. Auf grauem Karton 32,5 x 28,8 cm ( 12,7 x 11,3 in). Karton: 39,8 x 33,6 cm (15,7 x 13,3 in).
Vgl. Farbserigrafie von 1968 nach vorliegender Arbeit (Vitt 19).
PROVENIENZ: Sammlung Arrigo Lora "Centro di informazione estetica", Turin.
Ausstellung: The Non-Objective World, 1914-1924, Annely Juda Fine Art and Michael Tollemache, London 1970, Kat.Nr. 69 (mit Abb.).
Kleine Formate west- und osteuropäischer Künstler aus den Jahren 1910-1930, Galerie Gmurzynska, Köln 1984, Kat.Nr. 36 (mit Farbabb.).
Die Kraft zur Konzentration auf wenige elementare Formen entwickelt Walter Dexel bereits früh. In fast puristischer Reinheit erscheinen sie aber erst in den zwanziger Jahren, um in der Folge die Komposition allein zu bestimmen. Die Konsequenz, mit der Dexel sein Ziel verfolgt, hat ihm eine herausragende Stellung unter den Konstruktivisten gesichert, vergleichbar mit der der russischen Avantgardisten. Das verblüffende an den Kompositionen von Dexel ist ihre klare Aussage, die keine Lyrismen zulässt und stets von einem Ist-Zustand kündet. Dies macht seine Arbeiten so gegenwärtig und frappierend zeitlos. [KD]
Zustand: Ecken recto mit braunem Montierungsband. Rechte obere Ecke mit Kleberesten, Papier dort verfärbt. Im Passepartoutausschnitt minimal aufgehellt.
166
Komposition mit gelber Halbscheibe, 1926.
Gouache
Estimate:
€ 10,000 / $ 11,000
Sold:

€ 13,200 / $ 14,520
(incl. 20% surcharge)
Walter Dexel - lots sold by Ketterer Kunst