Sale: 300 / XXth Century Classics, June 02. 2006

Lot 9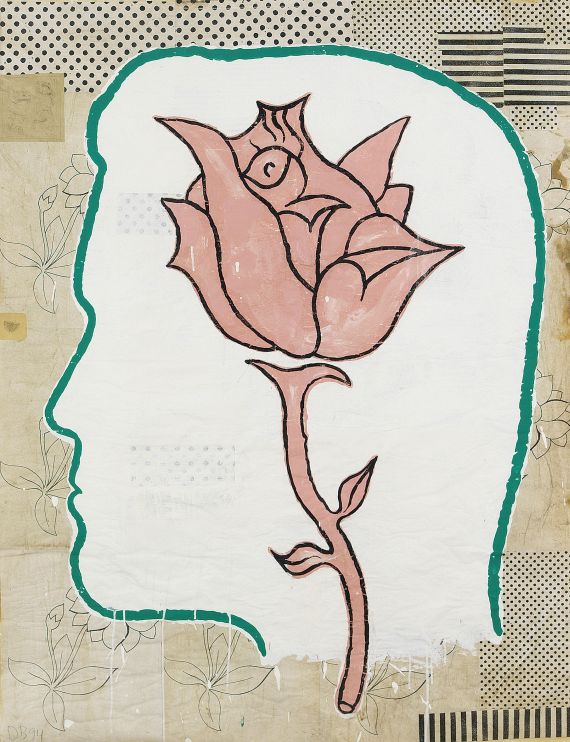 9
Profile with Flower (# 2), 1994.
Gouache
Estimate:
€ 15,000 / $ 13,800
Sold:

€ 11,900 / $ 10,948
(incl. 19% surcharge)
Profile with Flower (# 2). 1994.
Gouache über Papiercollage.
Links unten monogrammiert und datiert. Verso zweifach signiert sowie datiert, betitelt und bezeichnet "# 2" sowie "(Skow Hegan)". 90 x 70 cm ( 35,4 x 27,5 in).
Ausstellung: Laura Carpenter, Fine Art, Santa Fe, New Mexico (verso auf der Rahmenabdeckung mit dem Etikett).
Baechler, der in den 1980er Jahren durch internationale Ausstellungen bekannt wird, steht in der Tradition der amerikanischen Pop Art. Vor häufig geometrisch-abstrakten Hintergründen erscheinen die in bewusst kindlicher Manier gemalten Figuren. Häufig fügt Baechler den Bildern und Bildobjekten Collage-Elemente ein. Die aus vereinfachter starker Kontur aufgebaute Zeichnung verweist darüber hinaus auf Künstler wie Keith Haring oder allgemein Graffiti-Kunst. Unsere Arbeit ist charakteristisch für Baechlers Arbeitsweise. Es wird ablesbar, dass er Kunst als lebendigen Prozess begreift, was sich bei vielen seiner Bilder auch an den häufigen Übermalungen ursprünglicher Motive ablesen lässt. [HT]
9
Profile with Flower (# 2), 1994.
Gouache
Estimate:
€ 15,000 / $ 13,800
Sold:

€ 11,900 / $ 10,948
(incl. 19% surcharge)
You might also be interested in
Donald Baechler - lots sold by Ketterer Kunst