Sale: 293 / XXth Century Classics, May 12. 2005

Lot 120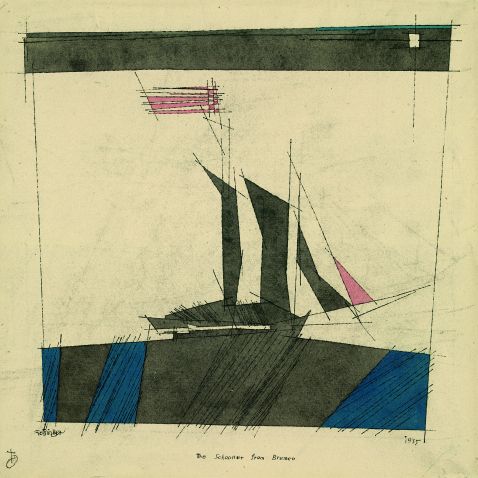 120
The Schooner from Bremen, 1935.
Watercolour
Estimate:
€ 18,000 / $ 20,340
Sold:

€ 18,720 / $ 21.153
(incl. 17% surcharge)
The Schooner from Bremen
Aquarell und Tuschfederzeichnung, 1935
Links unten signiert, rechts unten datiert. Auf dem Unterrand mittig betitelt und links unten mit dem Sammlungsvermerk des Künstlers. Auf leicht chamoisfarbenem Japanbütten 27,6 x 28,3 cm ( 10,8 x 11,1 in), Blattgröße.
Laut freundlicher Auskunft von Herrn Dr. Ulrich Luckhardt, Hamburger Kunsthalle, vom 30.3.2005, handelt es sich um ein authentisches Werk
PROVENIENZ: Privatsammlung Hessen.
1935 verbringt Feininger den Sommer in Deep an der Ostsee. Die Schatten der persönlichen Bedrohung durch den Nationalsozialismus werden immer länger. Trotzdem gelingt es ihm, in gewohnter Weise weiterzuarbeiten. Seine zeichnerische Aussage und seine Formensprache wird immer klarer, auch in seinen Gemälden. Es sind bestimmte Typen von ungewöhnlichen Schiffen, die den Künstler besonders interessieren. Deren oft exotische Umrisse bindet Feininger in ein Liniengeflecht ein, in das auch Meer und Himmel einbezogen werden. Besonders in diesem Aquarell wird die klare grafische Trennung der verschiedenen Bildebenen durch eine flächenhafte Lavierung unterstützt. Ungewöhnlich sind auch die Farben, die in ihrer gebrochenen Leuchtkraft den Stimmungsgehalt der Komposition unterstützen. [KD]
120
The Schooner from Bremen, 1935.
Watercolour
Estimate:
€ 18,000 / $ 20,340
Sold:

€ 18,720 / $ 21.153
(incl. 17% surcharge)
You might also be interested in
Lyonel Feininger - lots sold by Ketterer Kunst