Dictionary

Surrealismus und surrealistische Figurationen nach 1945

Surrealism of the 1920s was continued after the second world war, which can be observed with the example of Fantastic Realism, however, surrealist concepts and ideas were enhanced and altered and can be subsumed under the term Post-Breton-Surrealism.
In the days of abstraction Surrealism was regarded as a figurative art, however, not as much any longer as it was the case in the 1920s and 1930s. But it would live on, especially due to Breton's persistent attempts to revive Surrealism: In 1947 he organized a Surrealism exhibition in Paris along with Duchamp, the Paris exhibition "E.R.O.S." followed in 1959/60, an homage to international Surrealism, finally the exhibition "L'écart absolu" (The Absolute Deviance) took place in 1965, one year before Breton died. In addition, numerous publications also contributed to Surrealism's continued existence.
Strictly spoken, many of Surrealism's first generation artists continued making works in this particular style, however, they were also taking notice of the changes that the art scene was undergoing in those years. Salvador Dalí's "Classic Period" was coined by Surrealism just as it was the case with many of Max Ernst's later works, also René Magritte or Jean Miró can still be regarded as surrealists in the years after the war.
The only partly justifiable allegation that post-war Surrealism has to face, that is a lack of new ideas, kitsch and a plain repetition of conventional patterns, is mostly due to the glut of prints, as it is particularly the case with the numberless Dalí lithographs - which Dali actually never saw at all.
Surrealist figuration after 1945, which is often circumscribed with the term "Magic Realism", is characterized by a dream-like and fantastic, a literally super-real, choice of topics and subjects and an often delicate painting style, similar to pre-war Surrealism. But it already shows notions of modern techniques and styles, such as the Informel or Pop Art.
Among the main representatives of post-war Surrealism are Matthias Brandes, Otfried H. Culmann, Rolf Escher, Konrad Klapheck, Günther Thiersch or Paul Wans. Dutch representatives are Raoul Hynckes or Albert Carel Willink, in Austria Karl Goldammer and in the USA Paul Cadmus and George Tooker.

+
Sold lots top 100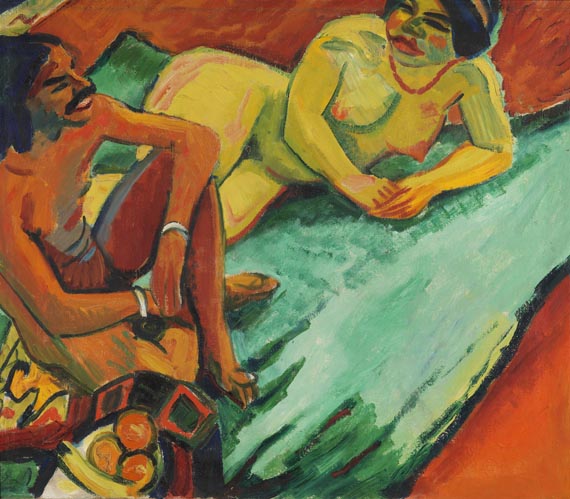 Hermann Max Pechstein