Dictionary

Late 18th Century Special Paths

The Enlightenment significantly changed the cultural landscape of Europe, and was followed by the emergence of a particular artistic phenomenon in the late 18th century: artistic mavericks (painters and illustrators) whose work did not conform to the dominant styles of the period. These artists produced subjective, inventive art, with forceful, stormy elements and a grotesque or fantastic style, which remained outside prevailing artistic tastes.
Although artistic individualists had existed since the Renaissance, during the late 18th century one generation produced a striking number, the Swiss painter and poet Johann Heinrich Füßli, who worked in England for a long period under the name Henry Fuseli, executed ghostly dream visions of baroque pathos, frequently inspired by literature. Another key artist of the era was John Flaxman (1755-1826), whose subjective, ornamental etchings, which would influence William Blake's (1757-1827) expressive-fantastic images. The astonishing artistic freedom and modernity which arose in late 18th century England and is sometimes understood as a precursor to the Romantic period, had an impact throughout the European mainland.
One of the most important artists of this period was Francisco José de Goya y Lucientes (1746-1828). From the 1790s, after losing his hearing, his work changed. His illustrations were grotesque and dramatic, as was exemplified in the exaggerated features of the subjects in the group portrait "The Family of Charles IV" and the dark, terrifying "Pinturas Negras", part of his later oeuvre.
There were also artistic individualists in the German speaking lands, such as the painters Müller and Franz Xaver Messerschmidt, who were sometimes referred to as representatives of "Sturm und Drang" art.
+
Sold lots Top 100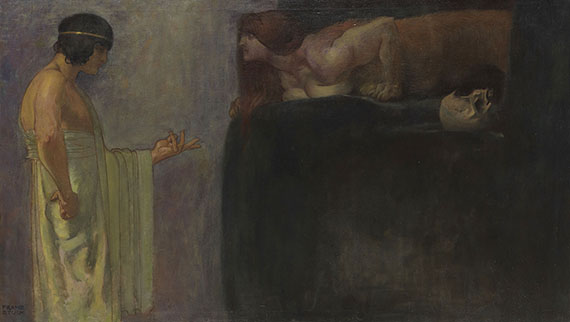 Franz von Stuck