Dictionary

Société des Artistes indepéndants

The Société des Artistes Indépendants (Association of Independent Artists) was founded in Paris in 1884. The group's annual Salons des Indépendants avant-garde exhibitions had a decided impact on the history of modern art. The group emerged at the same time as Impressionism and Post-Impressionism, and was a response to the conservative Parisian Académie Royale de Peinture's rejection of these styles. The Académie's rigid cultural politics and support for the official Paris Salon, resulted in a protest exhibition, the Salon des Refusés, organised by the group in 1862, and included works by artists whose work had been rejected by the official Salon. A similar situation arose in 1880, but this time the exhibition included numerous Impressionist and Post-Impressionist works that had been excluded from the Salon. The second Salon des Refusés was held in 1883, and was followed by the founding of the Société des Artistes Indépendants, which was conceived as an independent and jury-free exhibiting group.
Members of the group included Paul Gauguin, Paul Cézanne, Henri de Toulouse-Lautrec, Camille Pissaro, Albert Dubois-Pillet, Georges Seurat, Odilon Redon and Paul Signac. The Société des Artistes Indépendants unified the masters of Post-Impressionism and the pioneers of modern art in seminal exhibitions. The Société des Artistes Indépendants remained influential, and in 1905, Henri Matisse and the Fauvists exhibited at the Salon des Indépendants. The group, which still exists, provided an important forum for avant-garde movements and played an important role in spreading new artistic ideas.

+
Sold lots Top 100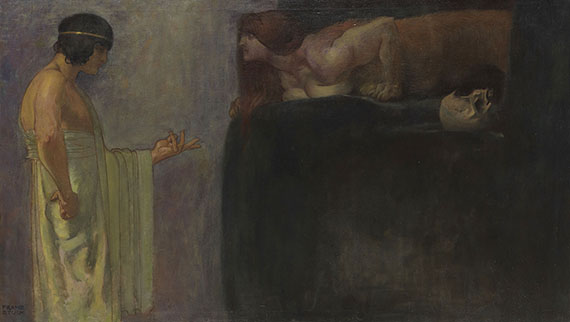 Franz von Stuck