Dictionary

Situationist International

The Situationist International was an international cultural revolutionary avant-garde movement, which existed between 1957 and 1972. The group was founded in the north Italian village of Cosio D'Arroscia on 28th July, 1957. The group's initiator, founding member and theoretician was Guy Debord (1931-94). Debord had already founded the Lettrist International in 1952, together with Gil J. Wolman in 1952, and the group later became the Situationist International.
The Situationists' aim was to revolutionise modern culture and society. In 1957 Debord claimed: "Our central idea is the construction of situations, that is to say, the concrete construction of momentary ambiences of life and their transformation into a superior passional quality".
The intended changes also included a re-interpretation of the notion of art. The artwork should be separated from the "spectacle" of life and done away with. For this reason, until 1962, artists who refused to sacrifice their art to this demand were excluded from the group.
The Situationists did, however, execute artworks such as collages, paintings, and drawings, as well as visionary, utopian urban planning, such as Constant's (1920-2005) design "New Babylon", during the 1950s.
Other members of the Situationist International included Giuseppe Pinot Gallizio and Asger Jorn from the "Mouvement International pour un Bauhaus Imaginiste", Uwe Lausen, Jørgen Nash, Maurice Wyckaert, Ralph Rumney, Jacqueline de Jong and the Munich group SPUR, which was named official German section of the group in 1959. The Situationist International had over 70 members.
The Situationist International's influence didn't end with its dissolution in 1972, and extended far beyond its lifetime. This was partly due to the group's critical social stance and cultural-political impact, as well as its radical questioning of established artistic ideas.
+
Sold lots top 100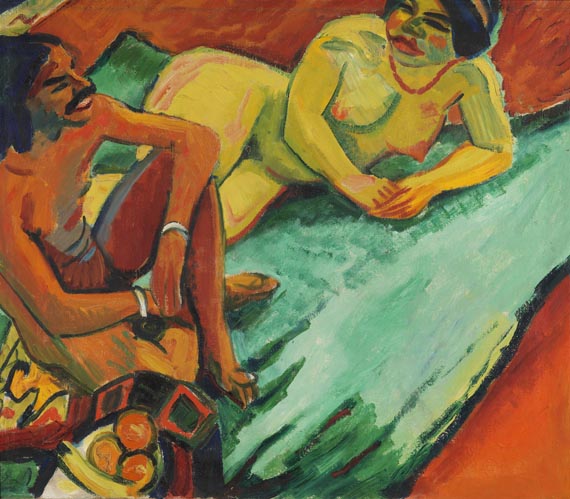 Hermann Max Pechstein