Dictionary

Salon des Réalités Nouvelles

Salon was the term used to describe the exhibitions, which had taken place in Paris since the 17th century. The emergence of the Salon des Réalités Nouvelles dates back 1946. The Salon des Réalités Nouvelles was used a platform by exponents of geometric abstract art, including the Concrete artists and the Constructivists to present their work in public. Josef Albers, Olle Baertling, Victor Vasarely and Michel Seuphor were amongst the artists who exhibited in the Salon des Réalités Nouvelles.
The quality of the exhibited work, as well as the accompanying catalogues, rapidly made the Salon of the most important podiums for geometric abstract art. This led to German abstract artists, such as Willi Baumeister, Hubert Berke, Rolf Cavael, Gerhard Fietz, Erich Fuchs and Rupprecht Geiger being included in the exhibition. In the following years, the Salon broadened its stylistic oeuvre and increasingly included Tachist and Lyrical Abstract artists, as well as sculptors such as Robert Jacobsen und Berto Lardera. The Salon's success extended into the end of the 1950s, when it finally lost its influence.

+
Sold lots Top 100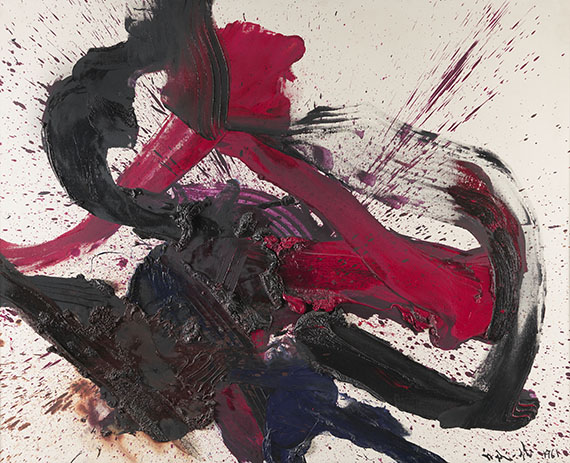 Kazuo Shiraga