Dictionary

Salon d'Art Idéaliste

Jean Delville founded the "Salon d'Art Idéaliste" as a successor of the "Salon de la Rose + Croix" in Brussels in 1896, its theoretic concept of art found expression in the magazine "L'Art idéaliste". The "Salon" marks a radicalization of the idealistic approach that was already expressed by the artists' group "Pour l'Art", which Delville had already started as early as in 1893, however, the group broke up because of internal struggles in 1896. The "Salon d'Art Idéaliste" would only be short-lived as well, it was abandoned after just three years in 1898.
The complete rejection of reality and any kind of Realism led to entirely new esthetics that were based on the principles of freemasonry and theosophy, this esthetic concept had already been introduced by Delville as early as in 1895 in his treatise "Dialogue entre nous". His essay "La Mission de l'Art" from 1900 is even more precise and stronger related to the "Salon". The title alone indicates that the artist sees himself as a spiritual leader that has identified a way to overcome Materialism, within the small group Delville had a teaching role.
All members regarded art as an opportunity to transcend the material and to expand into the realms of the pure idea. This neo-platonic concept of art wanted to continue the ancient traditions that were also found in works of the great Renaissance masters Leonardo, Raffael and Michelangelo. Additionally, they combined several mundane, Christlian and theosophic elements with the objective to find an idealistic esthetic.
In terms of stylistic features, the works of the "Salon d'Art Idéaliste" are entirely geared at the ideas they wanted to express. Light and cool colors, traditionally linked to spiritual contents, dominate their works. The stylized anatomy of the often hovering or dreaming figures also suggest an immaterial impression. Preferred topics were limited to fantastic, symbolic and allegoric depictions, whereas ancient and Christian motifs undergo new levels of interpretation. Traditional genres like history painting, genre painting and still life were strictly rejected.
Besides Delville, other members of the "Salon d'Art Idéaliste" were Léon Frédéric, Auguste Levêque, Albert Ciamberlani, Constant Montald, Emile Motte, Victor Rousseau, Armand Point and Alexandre Séon.
+
Sold lots Top 100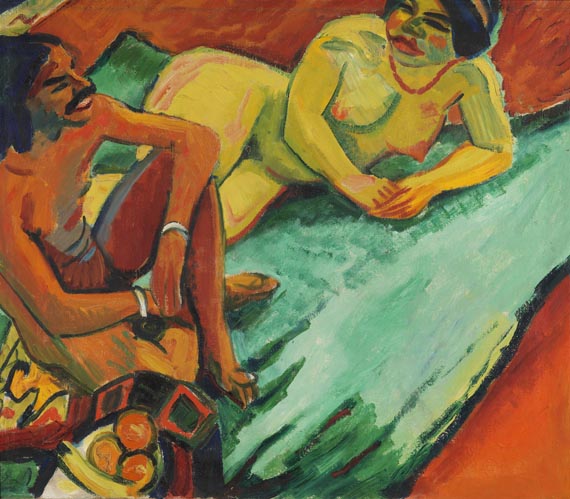 Hermann Max Pechstein