Dictionary

Russian Neo-Primitivism

The term Neo-Primitivism describes an early period of Russian avant-garde, which provided an important basis for Futurism, that is Rayonism, Suprematism and Constructivism. Michail Larionov (1881-1964) and Natalja Goncharova (1881-1962) were the main representatives of Russian Neo-Primitivism. The first paintings that can be allocated to Neo-Primitivism were made in 1907, however, the movement itself was not introduced to the public before 1909.
Michail Larionov and Natalja Goncharova were inspired by folk art, particularly by the Russian Lubok, picture sheets with a satirical, informative, patriotic or social-critical character. The figures were distorted and depicted in isolation, they seemed to be static and unshaped, calling reminiscence of woodcuts, a technique employed for early Lubok sheets. The emphasis on the vertical, the icon-like stylization of gestures and the annulment of perspective, with back-and foreground uniting, follow the model of folk art. The favorite topics of Russian Neo-Primitivism were rural life and the simple people's religiousness. The styles of Michail Larionov and Natalja Goncharova differ in the finer and smoother flow as well as Goncharova's color palette. She managed to unite the world of icons with the esthetic of Neo-Primitivism.
The Avant-garde in general and Expressionism in particular, were the basis of Russian Neo-Primitivism, taking the central Idealization of folk art to a pristine artistic expression, in which artists believed to have found a liberation from academic conventions. The connection between Expressionism and Russian Neo-Primitivism is documented in the almanac of "Der Blaue Reiter" (The Blue Rider), in which both David Burljuk's (1882-1967) essay "Die 'Wilden' Russlands" (Russia's Savages), as well as examples of Russian folk art were published. Also Kasimir Malewitsch (1878-1935) and Wladimir Tatlin (1885-1953) were dealing with Russian Neo-Primitivism in their early period.
+
Sold lots Top 100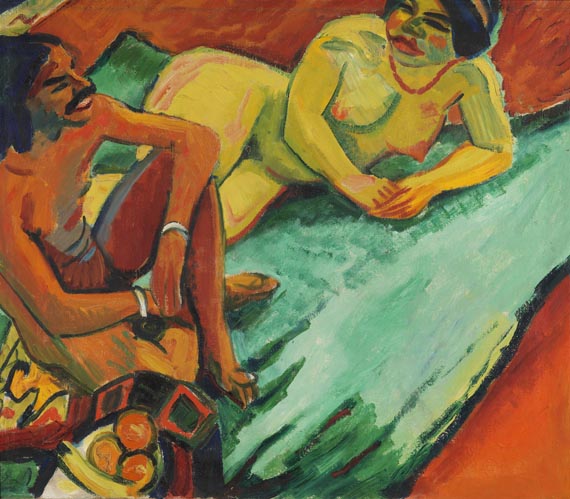 Hermann Max Pechstein