Dictionary

Romanticism in the German-speaking region

The epoch of Romanticism in the German-speaking region has to be distinguished in terms of time and topography. The development of romanticist painting in Germany is closely linked with post-revolutionary events, as artists tried to compensate prevailing feelings of uncertainnes and homelessness by means of their art, however, to an escapist extent. Dresden, Jena, Heidelberg and Berlin had become German centres of romanticist philosophers, poets and artist.
Philipp Otto Runge (1777-1810) and Caspar David Friedrich (1774-1840) were the main representatives of early romanticist painting and belong to the group of North German romanticicts. Landscape, often seen as a conveyor of emotions and views of the world, was both artist's main theme. The depiction of landscapes gradually disengaged itself from the classicist ideal landscape and oriented itself on an own, a more perceptible home.
Another important artist is Carl Rottmann (1797-1850), who implies romantic elements in his landscapes. Rottmann's main works, landscapes made in Greece between 1838 and 1850, show the artist's contemplative reception of nature in a highly emotional and melancholic manner. They are on exhibition in the Rottmann hall in the Neue Pinakothek in Munich today.
The Nazarenes were an independent group of German romanticists, that was founded in Vienna in 1809. The Nazarenes occupy a special position in Romanticism, as they were organized like a brothership, their favourite subjetcs were religious images that reflected their deep Christian belief. Franz Pforr and Friedrich Overbeck were the main representatives of the Nazarene movement, with Peter von Cornelius, Julius Schnorr von Carolsfeld and Wilhelm von Schadow also belonging to the circle around them.
Moritz von Schwind (1804-71) or Adrian Ludwig Richter (1803-84) represent late romanticist art inthe German-speaking region, just as the Düsseldorf school of painting that gradually turned to Realism. Landscapes by Carl Blechen(1798-1840) have to be allocated to the period between Romanticism and Realism. Works by the Pre-Raphaelites show strong romantic influence and were inspired by the Nazarenes.
+
Sold lots for Romanticism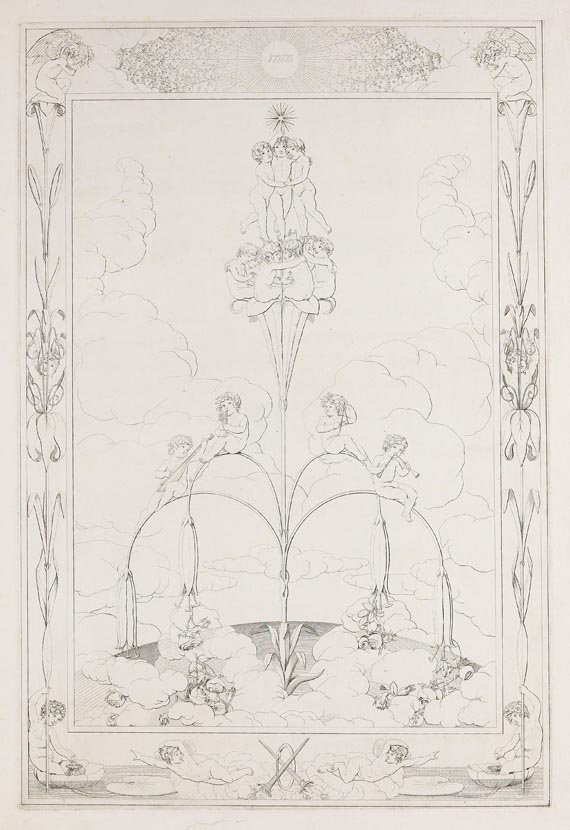 Philipp Otto Runge