Dictionary

Realism

The term Realism (Latin realis: real, meaning the matter, the object [Latin res]) describes a form of art that tries to depict reality. If this is done without stylistically intended alterations, the term Naturalism applies.
Many époques in art history can be considered as realistic tendencies, for instance Flemish painting of the 15th century or the Baroque era in the Netherlandsd. English landscape paintings by John Constable (1776-1837), William Turner (1775-1851) and representatives of the Norwich School can also be regarded as examples of early Realism.
The term, however, especially refers to a style that was particularly predominant in France in the second half of the 19th century.
This form of Realism had its origins in the 1830s and developed as a kind of counter tendency to Romanticism and Classicism. Contrasting the idea of an ancient ideal Classicism as early as in 1826, this term became established ("Mercure français du XIX siècle").
It was not before the days of Gustave Courbet (1819-77) that the term Realism was filled with programmatic content: When his works were rejected from the world exhibition in 1855, he organized a counter show in a nearby shed, giving it the name of "Pavillon du Réalisme". His "Realist Manifesto" was released the same year, in which he claimed that the "basis of Realism" should "reject the ideal ": The painter should depict his observations of everyday life that surrounds him, thus creating a lively and life-like art.
19th century Realism is therefore first and foremost, if not exclusively, a question of the subject: Art should not take its subject and motifs from days long gone and glorify them in ideal depictions, but rather take it from the present world, the harsh reality. This postulation was a clear offence of the academic concepts of art, "Réalisme" became a slogan, later one of the large movements in the pluralistic 19th century. Realist tendencies soon sprang up all over Europe, besides France, other centers were the German language region and Russia. Among the most renown international representatives count Gustave Courbet, Jean-François Millet, Honoré Daumier, Adolph Menzel, Wilhelm Leibl, Ilja Repin and Giuseppe Pelizza da Volpedo.
+
Sold lots for Realism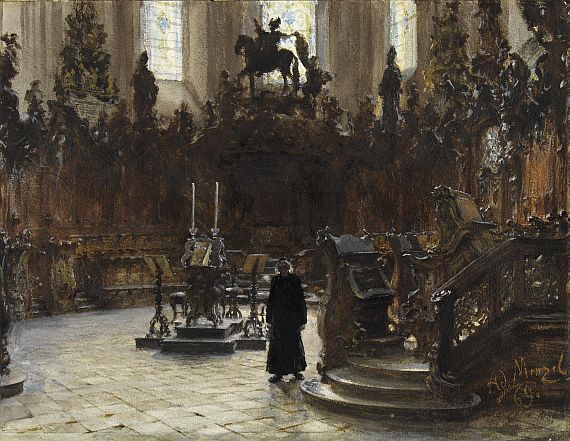 Adolph von Menzel