Dictionary

Louis-seize

Louis Seize refers to a style, which emerged under the reign of Louis XVI (1774-92). It followed the playfully light Louis-Quinze, and a transitional phase between 1755 and 1760, (Transition style). Louis Quinze was characterised by a primacy of sensuality, which was partially influenced by the English enlightenment, and stood in opposition to calls for truthfulness in representation This demand was to ease the transition into classicism. It began in international styles, which combined rococo or late baroque with classical elements. In France, this style was referred to as Louis Seize.
The first phase of Louis Seize lasted until 1774, and the second until 1790, with Marie-Antoinette's refined taste having a decided influence on the former. The queen insisted on having the palace furniture redecorated by Jean-Henri Riesener, who replaced abstract Rocaille decoration with elegant, luxurious straightened corpi, and figurative ornaments. Riesener's Louis Seize furniture was decorated with animals, baskets of blossoms, twigs, garlands, wooden sticks, and antique motifs. The ornamental engraver Henri von Salembier made a significant contribution to the spread of the style. Ange-Jacques Gabriel's architecture and in particular, his main work, Petit Trianon in Versailles (1762-66) are exemplary Louis Seize buildings. The leading sculpture of the period was Jean-Baptiste Pigalle, and Jean-Antoine Houdon (1741-1828), who executed lively, character-rich, early classical works.
Jean-Baptiste Greuze (1725-1805) was a leading exponent of Louis Seize morality and portrait painting. Jean-Étienne Liotard and Jean-Baptiste Perronneau were the pioneers of pastel portraits. The portrait was also Élisabeth Vigée-Lebrun's preferred art form, and her work can also be regarded as classical. Jean Siméon Chardin (1699-1779) was an exception to the rule and artistic loner, who specialised in executing still- life, genre, and portrait paintings. Chardin's art was the product of an intense study of Dutch high baroque painting, particularly of the Delft School's calm, 'status displays.' Chardin used these works as examples, and intensified their still life-like uniqueness in his own paintings. His mellow palate of soft, speckled colours and balanced composition, created a calm, deep and poignant harmony in his works.
+
Sold lots Top 100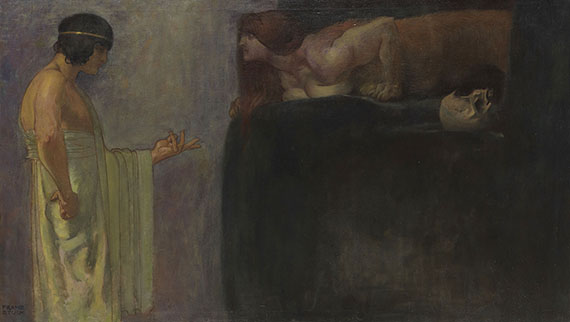 Franz von Stuck