Dictionary

Louis-quatorze

Louis-quatorze was the official representative style of the French high baroque, which was fostered by the court of the absolutist "Sun King" Louis XIV ("Le Roi Soleil", whose reign lasted from 1643-1715). The King was a generous patron of the arts, who expected the glorification of his authority and power in return for his patronage.
Charles Le Brun (1619-90) was one of the main exponents of the style, who used the formal language of baroque classicism in representative signs. He was the founding member of the Académie Royale de Peinture et de Sculpture, and as court painter, interior designer and decorator exerted a strong influence on the Lois-quatorze style. As "Premier Peintre du Roi", Le Brun executed grand, frequently, allegorical picture cycles which emphasised rulers' virtues, such as those illustrating the life of Alexander the Great in the Louvre.
Le Brun was also responsible for the specific yet ostentatious and classically balanced furniture style of the period. The preferred ornamental style of Louis-quatorze was influenced by the engraver Jean Lepautre (1618-82), whose opulent, acanthus-style etchings became popular blueprints for crafts.
In architecture, the grand Chateau of Versailles, renovated by Louis Le Vau, Francois d'Orbay and Jules Hardouin-Mansart, can be seen as exemplary Louis-quatorze. The Cathédrale Saint Louis, designed by court architect Jules Hardouin-Mansart, is another example of Louis-quatorze style architecture.
+
Sold lots Top 100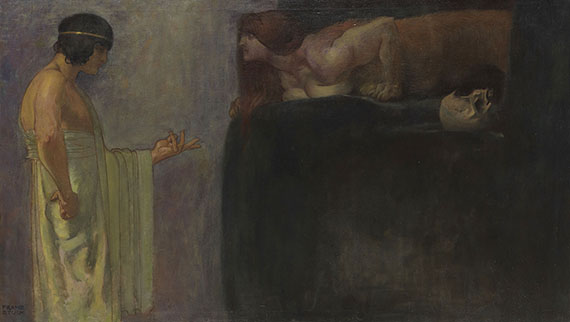 Franz von Stuck