Dictionary

Little Masters

The term "Little Masters", which is also sometimes used as a pejorative term, can actually be applied to all artists who dedicated themselves to making small-format work. This was frequently the case in German-speaking countries during the 16th century, when not only miniature sculpture was booming, in the work of Conrad Meit, for example, but graphic artists also began executing works for miniature books.
This group of Northern European artists, who executed primarily small-format woodcuts and copper plate etchings, are referred to as "Little Masters".
The Little Masters devoted themselves to mythological or biblical themes, frequently influenced by the Reformation, as well as allegorical historical subjects. The Little Masters' morality paintings were innovative and predicted the genre paintings of the Baroque period. The Italian Renaissance also had a strong impact on the Little Masters ornamental engraving. It became the template for arts and crafts, influencing the formal language of Northern European engraving.
Many of the Little Masters lived in German-speaking countries, where Dürer's work had a decided influence on the style. German masters included Barthel and Hans Sebald Beham, Heinrich Aldegrever, Jakob Binck, Hans Brosamer, Daniel Hopfer, Ludwig Krug, Johann Ladenspelder, Georg Pencz (Jîrg Bencz, Monogramm IB), Jost Amman, and, frequently, Albrecht Altdorfer (c. 1480-1538). Important Dutch exponents include Cornelis Massys and Dirck Jacobsz Vellert, and in France the artists Jean Duvet and Jean de Gourmont.


+
Sold lots Top 100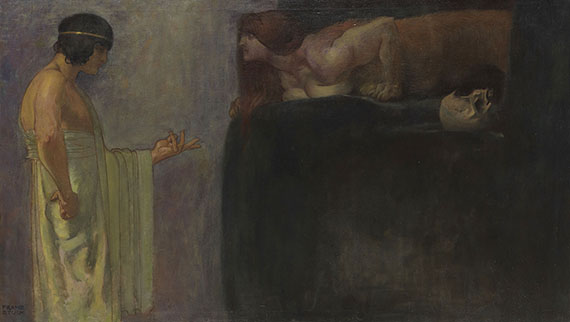 Franz von Stuck