Dictionary

Leiden School

Leiden had already produced an important artist in the 16th century, Lucas van Leyden (1494-1533), as well as Rembrandt. Rembrandt's first student, Gerard Dou (1613-75) was the founder of the Leiden school of fine painters. Dou developed a meticulous miniature painting technique. Using the finest brushes, and with the help of a magnifying glass, he reproduced every aspect of his subject in photographic detail. This resulted in an enamel-like, smooth pictorial surface, which was combined with a largely pleasing and accessible choice of motifs, the most popular being the view from a window. This choice of subject matter became the school's trademark.
The followers and students of Gerard Dou, who worked in the Leiden fine painting style, included Frans van Mieris the Elder (1635-81), his son Willem (1662-1747), Gabriel Metsu (1629-67), Pieter Cornelisz van Slingelandt (1640-91) and Godfried Schalcken (also: Gottfried Schalken, 1643-1706). The Leiden school of fine painters was active in the mid- and late 17th century, but its resonance lasted well into the 18th century.
As well as the fine painters, Leiden produced other artists such as Jan van Goyen (1596-1656), who executed atmospheric, tonal landscapes and Jan Steen (c. 1626-79), a master of humorous genre painting.
+
Sold lots Top 100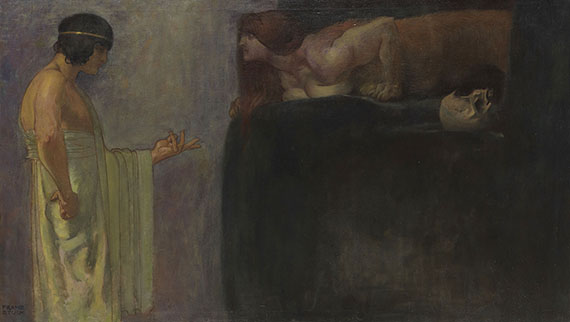 Franz von Stuck