Dictionary

Leibl Circle

Within German Realism, which cannot be clearly distinguished from Impressionism and Pleinairism, an artists' group formed around the painter Wilhelm Leibl (1844-1900) in Upper Bavaria. This group of friends would go down in art history as the "Leibl-Kreis" (Leibl Circle). The artists of the Leibl-Kreis, besides Wilhelm Leibl, there were Theodor Alt, Louis Eysen, Karl Haider, Fritz Schider, Otto Scholderer, Carl Schuch, Johanna Sperl, Hans Thoma, Wilhelm Trübner and others, turned against the predominant concept of academic Realism with its monumental history scenes, even though most members of the loose association had been educated at the Munich academy.
Unlike the academic concept of art, in which important issues were addressed in a heroic manner, and also in contrast to genre painting, which was also in full swing at the same time, the painters of the Leibl-Kreis turned their attention to pure painting, meaning the pictorial implementation, which often overlooked the object's particular materiality, thus somehow attaining a decomposition of form in painting, was elevated above the object depicted. These tendencies of the Leibl painters, which were in their closest co-operation between 1871 and 1873, made them precursors of abstraction and are proof of a ground-breaking modernity.
However, the artists also dared to look back, as their works clearly show the influences of great old masters, such as Frans Hals or Diego Velázquez. For some time the artists around Wilhelm Leibl even developed their own archaic lifestyle, which found exemplary expression in Leibl's famous "Drei Bäuerinnen in der Kirche" (Three Countrywomen in Church, 1882).
The art of the group showed to have been influenced by French Realism, especially by Gustave Courbet as well as by French Impressionism.
Landscapes, portraits and still lifes were the favorite topics of the group's paintings. They made numerous intimate and introversive paintings that were not in line with the then predominant taste in Germany, which was asking for something representative and national heroic. Today, however, no one has any doubt in the great achievements the Leibl-Kreis has contributed to the history of art.
+
Sold lots Top 100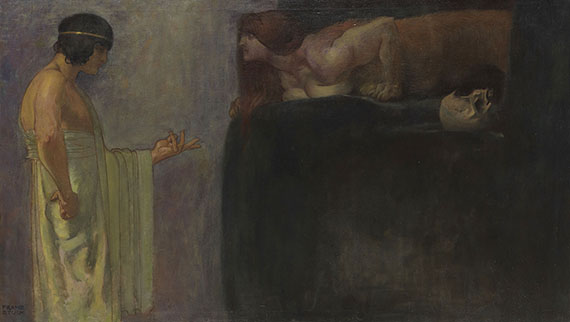 Franz von Stuck