Dictionary

Latemse School (the first generation)

The art of the first generation of the Latemse School, also known as Laethemer Group or Sint-Martens-Latem Group, was quite different than that of other Symbolist movements in Belgium, for instance the "Salon d'Art Idéaliste". The main intention of this artists' group, founded in 1898, was the quest for a pristine religiousness in the countryside, they did not depict supernatural ideas that were far from reality.
The rejection of the industrial city can be identified in the artists' retreat to the small village Sint-Martens-Latem, located south of Gent. It is characteristically that the artists' group chose the name of the village for their group.
Escaping the big city and rejecting Modernism and its immanent belief in progress, as well as the connection between an original concept of Christianity and rural life, are features that the Latemse School had in common with many other artists' groups in those days, for instance the Dachau School, the School of Pont-Aven or the artists' colony Worpswede and even German Expressionism. Their fascination for the old Dutch painters and their mysticism is what the Flemish artists had in common with the Pre-Raffaelites and their fascination for 15th century art. However, a special feature of the Latemse School's first generation is their very regionalist position, ascribing Flanders' cultural identity to the consistency of its traditions. This enthusiasm for the Flemish identity laid the basis for the path of the Expressionists.
In terms of style, their works are characterized by a remarkable simplicity, illustrating the group's artistic intentions. Few near-natural colors amend the compositions that are predicated on the basic forms. Their range of topics comprises landscapes and rural scenes, as they can also be found in the sculptures of George Minnes, they are to be understood as an allegory for a devout life.
Among the group's most important representatives were Albert Servaes, Georges Minne, Gustaaf Van de Woestijne, Valerius De Saedeleer and Albin Van den Abeele.
+
Sold lots top 100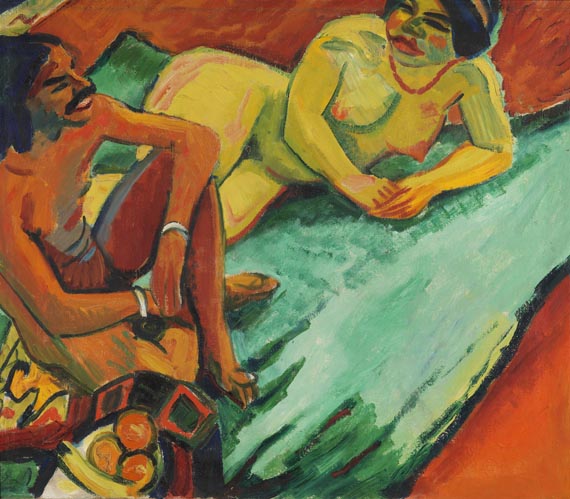 Hermann Max Pechstein