Dictionary

Hispano-Flemish School

Spain and the Kingdom of Aragon (as well as Catalonia and Valencia), were receptive to the Flemish "Ars Nova", from an early stage. Trade links created the basis for the artistic exchange, and in 1431 King Alfonso V. sent Louis Dalmau, his court painter to Flemish Bruges, to learn the new technique of oil painting. Some years earlier, Jan van Eyck, whose work was also purchased by Alfonso V, travelled to Spain and Portugal at the behest of his employer Philip the Good. Other Flemish painters travelled to Spain: In 1436, Lodewijk Allyncbrood (Luis Alimbrot) moved from Bruges to Valencia. Valencia, then a metropolis, soon became a centre for the Hispano-Flemish school, which had a particular influence on the work of Jan van Eyck and the expressive Rogier van der Weyden. The ideas from the Netherlands were not only imitated but also often inspired entirely new compositions.

The masters of the Hispano-Flemish school can be distinguished stylistically from their Flemish predecessors. Their style combined the Dutch "Ars Nova" with regional peculiarities, Italian and International Gothic influences. Their works are often less colourful than those of the Flemish, with darker shading and a preference for gilding and stucco ornament.
The main representative of the Hispano-Flemish school alongside Louis Dalmau (c. 1400-60) was Bartolome Bermejo (c. 1430-96), who worked in Aragon and Barcelona. Other figures include the Catalan Jaume Huguet (1412-92) and the influential Fernando Gallego from Salamanca (c. 1440-1507).

+
Sold lots Top 100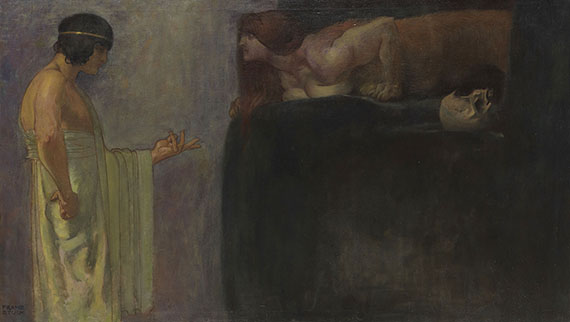 Franz von Stuck