Dictionary

Arte Povera

Art Povera was one of the key artistic movements in Italy during the second half of the 20th century.
During the 1960s, Italian artists discovered a new artistic language, which was largely expressed through a new material aesthetic.
Arte Povera thus didn't actually mean the use of "poor" materials, as the term initially suggests. It was rather an attempt to overcome notions about the importance of material. In this context, the equal use of wood, concrete, earth, glass, felt and stones, as well as silk, gold and marble was justifiable, if the poorer materials always had a greater value within the work. The key representatives of Arte Povera included Mario Merz, Michelangelo Pistoletto, Jannis Kounellis, Luciano Fabro, Giuseppe Penone and Giulio Paolini. The art historian and curator Germano Celant (born 1940) coined the term "Arte Povera" in 1967 as an exhibition title, and it later became an art historical term.
Arte Povera artists explored diverse aesthetic approaches. At the end of the 1960s, Mario Merz (1925-2003) claimed that the igloo was the earliest form of human habitation. Merz subsequently altered the igloo and its typical semi-circle shape, making igloos out of various materials such as glass, concrete, branches and leather. An important element in his work was the Fibonacci series, which referred to one of the most important mathematicians of the Middle Ages, Leonardo Fibonacci. A row of numbers is produced by adding the two previous numbers. Each number is thus the sum of the two preceding numbers: 0-1-1-2-3-5-8-13-21, etc. For Merz, this series of numbers captured the sprawling power of creation, which appeared in his work as a symbol of all life.
In contrast, Jannis Kounellis (born 1936) primarily focussed on questions about the origins of culture, and with his casts of Classical sculptures, made reference to past epochs, such as Antiquity and the Renaissance.
+
Sold lots Top 100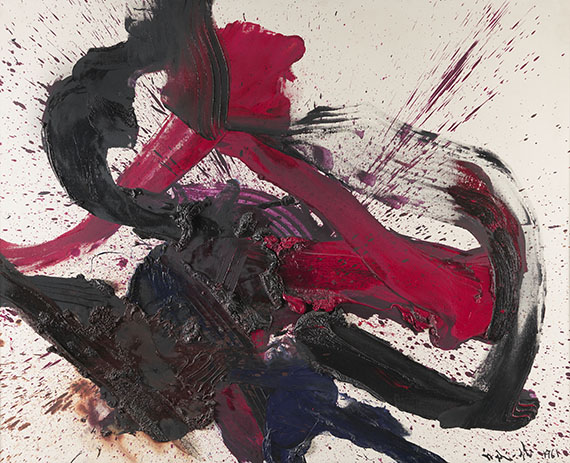 Kazuo Shiraga