Dictionary

Art Nouveau in Frankreich

The connection between art and life, intrinsic to Art Nouveau, had also been praised in France as of the 1880s. The new movement in art, which at the same time was perceived as a kind of spiritual renewal, was programmatically called Art Nouveau. This term originates from the gallery "La Maison de L'Art Nouveau", which was opened only in 1895 by the Hamburg merchant Samuel (or Siegfried) Bing. Bing is regarded as one of the first central figures for the movement's development in France. He acquainted the Paris audience with works of international artists, for instance of the American product- and interior designer Louis Comfort Tiffany and promoted the new French art. Samuel Bing's ideals were in line with the basic principles of the British Arts and Crafts Movement. To him the objective of modern art and modern artisan works was the design of functional objects of utility, which would make people's environments more livable and at the same time prettier. Bing also made major contributions to the promotion of "Japanese Fashion" in France, as he had been dealing in East Asian art since 1871. This connection is self-evident, as it was Japanese art that had a major influence on the emerging Art Nouveau.
The English origin of the movement of "Art Nouveau" is accommodated by another term , the "Style Anglais", which was used synonymously. Other descriptions commonly used were "Style 1900" and "Style naturiste". The latter plays at Art Nouveau's liking for organic forms. In its French occurrence, the style reached a height in asymmetric complexity and playful line management, of which there are no such examples in England or the German language region. Another feature typical for French Art Nouveau is the clear connection between arts and crafts and Symbolism in literature, of which the preference for swinging female heads, insects, fish, swans and blossoms is proof. Among the most important French representatives of Art Nouveau count René Lalique, Eugène Gaillard, Georges de Feures, Edouard Colonna, Jules Chéret and Henri de Toulouse-Lautrec. Besides furniture, jewelry and interior design, poster art and the metro stations by Hector Guimard (1867-1942), which coined the term "Style Métro", are remarkable achievements of Art Nouveau in France.
+
Sold lots top 100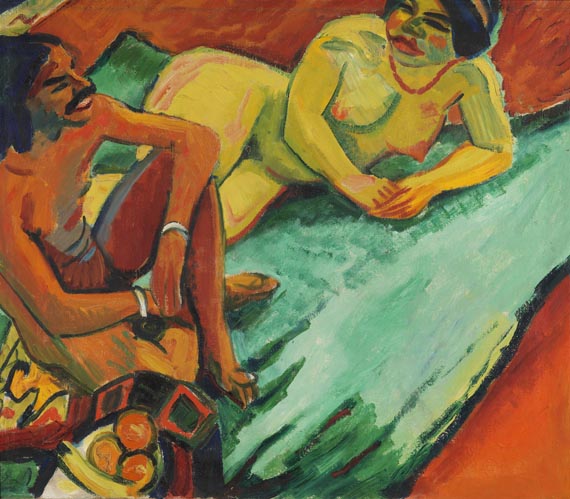 Hermann Max Pechstein