Dictionary

Action art since 1960

Action art was an attempt to overcome the division between art and life. It was supposed to produce new forms of artistic expression and blur the boundaries between genres.
An important factor in all forms of Action art was the players who participated in the events, whether artists or the public,
Action art was influenced by Dadaism, the "serata" of Futurism, Bauhaus theatre, Surrealist film, and the subjective gestural expressions of Informel and Action painting. The parallel development of the Happening and Fluxus events began during the 1950s, and intensified during the 1960s – both were attempts to fuse artistic expression with life.
Happenings were intended to elicit a response from the public, but Fluxus events, which were more improvised, took place in front of a more passive audience. One particular form of Happening was the Nouveaux Réalistes Actions-Spectacles, during which artists produced art works.
Fluxus produced important ideas, which Joseph Beuys for example, processed in his Action art, although he eventually gave up their frequently slapstick-like spontaneity. Beuys also referred to the objects he used in his Actions as "excrements", and these later became independent art works. From the 1960s, Performance and Body Art artists increasingly used their bodies as material for their work, and explored the diverse dimensions of bodily sensations, particularly pain. The Vienna Actionists' body analysis and ritual acts were particularly extreme in their visual implementation.
The filmic and photographic documentation of Action art is frequently the only comprehensive record of the unique and temporary artistic acts which took place.

+
Sold lots Top 100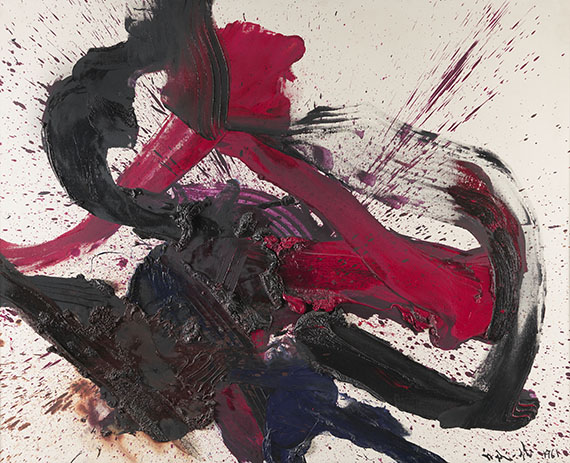 Kazuo Shiraga