Sale: 353 / Rare Books including Marine Art, May 18. 2009 in Hamburg

Lot 18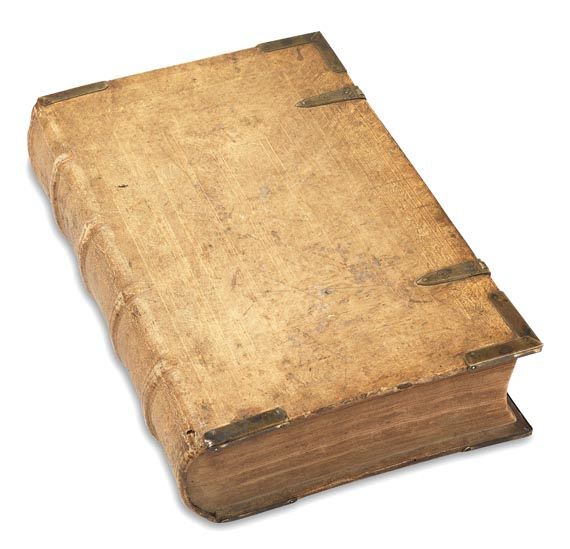 Lot description
Euclid,
Elementorum Geometricorum Lib. XV. Cum expositione Theonis in priores XIII à Bartholomaeo Veneto Latinitate donata ... His adiecta sunt Phaenomena, Catoptrica & Optica, deinde Protheoria Marini & Data ... Mit
zahlr. geometr. Textholzschnitten
und -Initialen sowie 2 Holzschnitt-Druckermarken (auf dem Titel und am Ende). Basel, J. Herwagen, August 1537. -
Angeb.: Ptolemaeus, C.
, Omnia, quae extant, opera, geographia excepta, quam serosim quoq(ue) hac forma impressimus. Mit 2 gefalt. astronom. Holzschnitten, zahlr. geometr. Textholzschnitten, -Initialen und Tabellen sowie 1 Holzschnitt-Druckermarke am Ende. Basel, Henricpetri, März 1541. Blindgepr. Schweinsldr. über Holzdeckeln mit Messingeckbeschlägen und 2 Messing-Schließen. Folio. 4 Bll., 587 S.; 14 Bll., 511 S.
I:
Thomas-Stanford 9. - Steck III, 33. - Houzeau/Lanc. 832. - Honeyman Coll. 977. - VD 16, E 4154. - BM STC, German Books S. 288. - Adams E 974. - Erste latein. Herwagen-Ausgabe der bedeutenden, von Melanchthon eingeleiteten Sammelausgabe. - "Die Ausgabe ist fast zu einer vollständigen Euklid-Ausgabe geworden, die auch die
kleinen Schriften
Euklids neben den
Elementen
enthält und von den verschiedenen Verfassern kommentiert sieht, und wirkt als solche bedeutsam nach" (Steck). -
II:
Houzeau/Lanc. 881. - VD 16, P 5204. - BM STC, German Books S. 718. - Adams P 2207. - Seltene erste lateinische Ausgabe von Ptolemaeus
Almagest
. Hrsg. der mathematisch-astronomischen Schriften war H. Gemusaeus, übersetzt wurde das Werk von G. Trapezuntio. - Schöner überwieg. zweispaltiger Druck mit griech. Worteinschüben. - Zustand für beide Werke: Im Rand tlw. schwach gebräunt, zu Beginn leicht fleckig, Titel zu I mit getilgtem alten Besitzeintrag, 1 Bl. mit größerem Eckabriß. Hint. Deckel leicht verzogen. Insges. gutes Exemplar der beiden Grundsteine für die moderne mathemat. und geogr. Wissenschaft.
Two first collected editions by the two most important authors of European science, bound in fine contemp. blindstamped pigskin over wooden boards. I: With num. woodcut illustrations, figures and initials and 2 woodcut printer's devices. II: With num. woodcut illustrations, figures and tables in text, 2 double-page astronomical woodcut plates and woodcut printer's device at end. - Slightly browned in the margins, slightly stained at the beginning, title (I) with erased ownership entry. Back cover cocked. All in all fine copy.
18
Elementorum Geometricorum. 1537.
Estimate:
€ 6,000 / $ 7,020
Sold:

€ 13,200 / $ 15.443
(incl. 20% surcharge)
More Images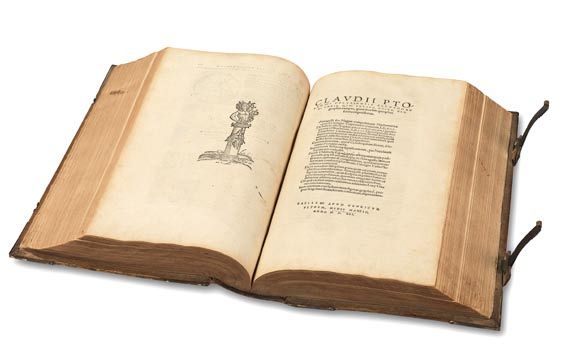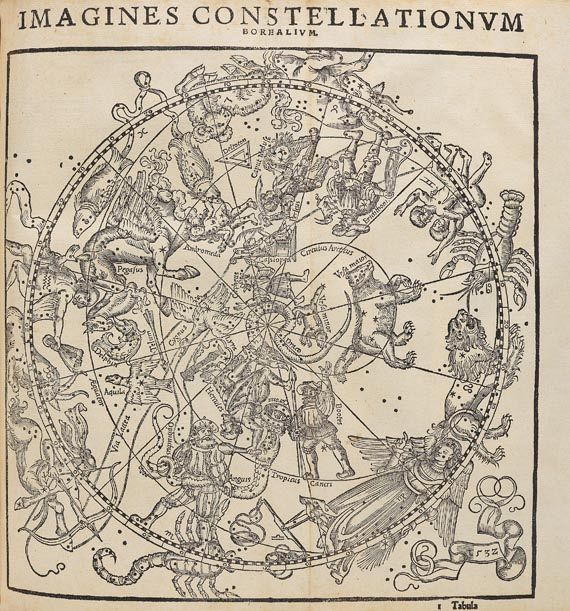 You might also be interested in
Euklid - lots sold by Ketterer Kunst