Sale: 353 / Rare Books including Marine Art, May 18. 2009 in Hamburg

Lot 5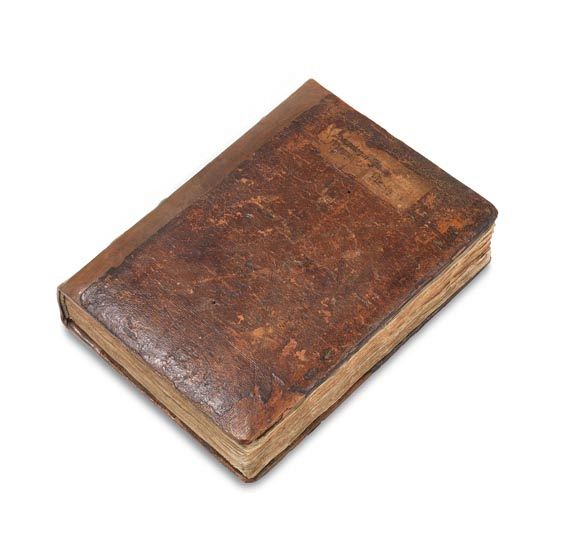 Lot description
Magni, Jacobus,
Sophologium.[Straßburg, Drucker mit dem bizarren R, d. i. Adolf Rusch, nicht nach 1474].
Zeitgenöss. Holzdeckelband
mit blindgepr. Lederbezug (Rautenmuster mit Stern- und Lilienstempeln) sowie Innenspiegel unter Verwendung einer Pergamenthandschrift; Rücken erneuert. In HLdr.-Kassette. Folio. 217 nn. Bll. (st. 219, ohne die 2 weißen am Ende). Rom. Type,
durchgehend rubriziert
, mit eingemalten roten Lombarden.
Hain/Cop. 10472. - Goff M-38. - BMC I, 61. - BSB M-21. - Polain (B) 2458. - Ritter 293. - Klebs 595.2. - Lex. d. ges. Buchwesens VI, 424 (mit Abb.). -
Sehr seltene erste Ausgabe
in einem vollständigen, sehr breitrandigen und druckgeschichtlich interessanten Exemplar. Gedruckt in der Offizin des
Straßburger Zweitdruckers Adolf Rusch, der als erster in Deutschland mit Antiquatypen druckte
. - Reichhaltiges, aus antiken Schriften verfaßtes Kompendium der Philosophie und der Wissenschaften, mit Kapiteln über Arithmetik, Geometrie, Astronomie, Medizin, Pädagogik, Poetik, Recht, Volks- und Staatswissenschaft etc. Der Verfasser Jacobus Magni (Legrand) war Anfang des 15. Jahrhunderts Professor der Theologie und Philosophie in Paris (vgl. NBG XXX, 420).
Der aus Ingweil im Elsaß stammende Drucker Adolf Rusch war Schwiegersohn des Straßburger Erstdruckers Mentelin. "Da Rusch keinen einzigen Druck mit einem Impressum versehen ließ, war man sich lange über seine Erzeugnisse im unklaren, bis man fand, daß er mit dem 'Drucker mit dem bizarren R' (in einer Antiqua) identisch ist. Er hat als erster in Deutschland mit Antiquatypen gedruckt ... Rusch war - wie fast alle bedeutenderen Drucker des 15. Jhs. - lateinkundig, mit den elsässischen Humanisten befreundet und druckte - eine Ausnahme unter den deutschen Druckern des 15. Jhs. - großenteils humanistische und klassische Literatur" (Geldner I, 62).
Das vorliegende Exemplar ist eines der ganz wenigen mit zeitgenöss. hs. Datierungsvermerk, und gibt damit einen wichtigen Hinweis für die Datierung bzw. für den Terminus ante quem des undatierten Druckwerks: Auf der Rückseite des vord. flieg. Vorsatzblattes findet sich die zeitgenöss. Eintragung, daß das Buch dem "Regularium domus bonorum puerorum in Leodio" (Konvent St. Elisabeth in Lüttich) von Wilhelmus de Aquisgrani (Aachen), Kanoniker von St. Lambert in Lüttich, geschenkt worden sei, datiert "Anno domini m cccc lxxiiii" (1474).
Außerordentlich breitrandiges und für die Geschichte des Frühdrucks interessantes Exemplar, da noch die hs. Bogensignaturen und hs. Kustoden des Druckers vorhanden sind sowie ferner in Kopf- und Fußsteg die Nadelspur des Deckels der Presse, der den Druckbogen in seiner Position hielt. - Die eng beschriebene Pergamenthandschrift des Innenspiegels enthält einen Tractatus de amore sapiente. - Äußere Ränder tlw. mit schwachem Wasserrand. Deckelbezug restauriert, ebenso das flieg. Vorsatzbl. im unt. Drittel und das letzte Textbl. in der unt. Ecke. Gutes Exemplar.
Rare first edition of this classic compendium of science and philosophy, printed by the second Strasbourg printer Adolf Rusch (the printer of the peculiar 'R') whose type is the first Roman type ever used in Germany. Complete and very broad-margined copy with interesting features regarding the history of early printing: ms. Latin inscription of the Convent of the regular Canons at the priory of St. Elisabeth or of the 'Good Boys' (des Bons-Enfants), Liège, dated 1474, giving a firm Terminus ante quem to the undated edition. Furthermore the ms. signatures and catchwords are visible in the lower margin, but also the little holes in the upper and lower margins caused by the nails on the tympan of the printing-press enabling the printer to print the lines on recto and verso just on top of each other. Contemp. calf over bevelled wooden boards, with blind-tooled lozenge-shape pattern with fleur-de-lys and star stamps, pastedowns from a 15th cent. manuscript on vellum (spine renewed and covers restored); in mod. half morocco case. Roman type, rubricated throughout with red lombards. - Without the mostly lacking last 2 blanks. - With faint waterstains in places of outer margins, front flying endpaper restored in the lower third, as well as the last leaf in the lower corner. Good copy.
5
Sophologium. 1474
Estimate:
€ 18,000 / $ 21,060
Sold:

€ 21,600 / $ 25.272
(incl. 20% surcharge)
More Images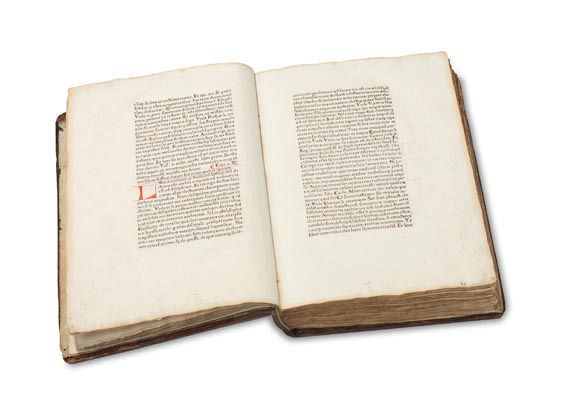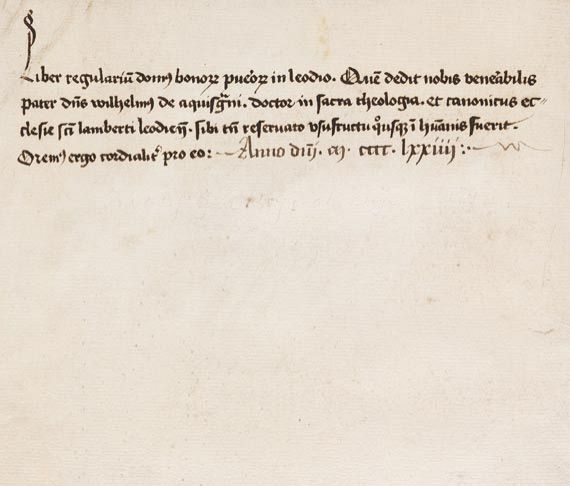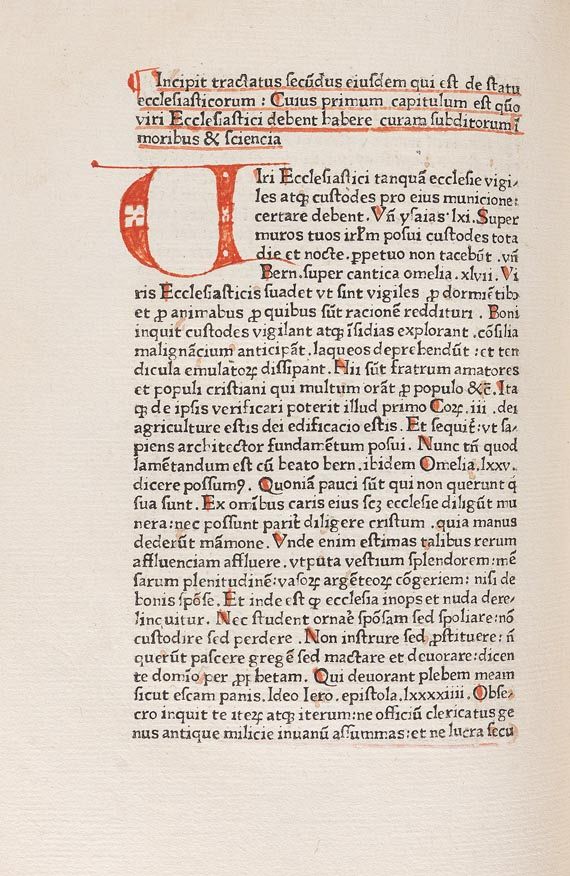 You might also be interested in
Jacobus Magni - lots sold by Ketterer Kunst