Sale: 353 / Rare Books including Marine Art, May 18. 2009 in Hamburg

Lot 810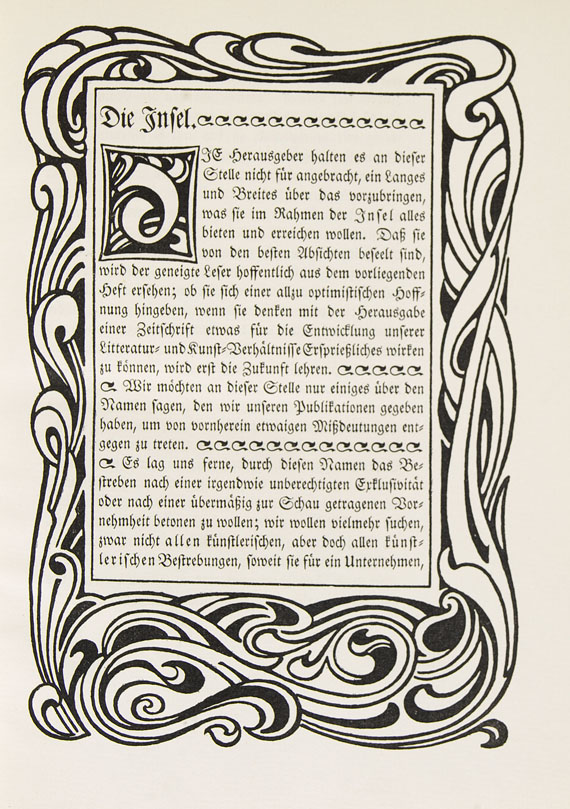 Lot description
Die Insel.
Monatsschrift mit Buchschmuck und Illustrationen. Hrsg. von O. J. Bierbaum, A. W. Heymel und R. A. Schröder. 3 Jgge. in 12 Bdn. Mit zahlr. Abbildungen. Berlin und Leipzig, Insel 1899-1902. HPgt. mit KGoldschnitt. 8vo.
Schlawe I, 60-63. - Schauer II, 11. - Sarkowski 1974-81. -
Vollständiges Exemplar der bedeutenden Jugendstilzeitschrift
, die dem Insel-Verlag ihren Namen gab. "Eines der wichtigsten Organe des Jugendstils" (Eyssen S. 19). - Mit Beiträgen und Erstdrucken der Herausgeber, R. Walser, P. Verlaine, H. von Hofmannsthal, P. Scheerbart, R. M. Rilke, F. Wedekind, H. Mann etc. - Verschiedene Einbände: OHPgt. mit RVerg. (4); HPp. unter Verwendung des alten Materials (Rücken sowie Deckel- und RSch.; 4) und HPgt. d. Zt. mit RSch. (4). Tlw. etw. angestaubt und berieben. Unbeschnittenes gutes Exemplar aus der Bibliothek von S. Schocken Jun.
Three complete years of the significant Art Nouveau journal. With numerous illustrations. Orig. half vellum with gilt spine. (4); half vellum retaining the original spine as well as cover and spine label (4) and contemp. half vellum with spine label (4). All bindings with top edge gilt. - First two volumes with library label by S. Schocken Jun. - Somewhat soiled. Boards bindings rubbed. Untrimmed.
810
Die Insel. 1899.
Estimate:
€ 1,200 / $ 1,380
Sold:

€ 1,320 / $ 1.517
(incl. 20% surcharge)