The international auction house for buying and selling of
Paul Signac
Biographies

Paul Signac
* 1863 Paris
† 1935 Paris
The French painter and graphic artist Paul Signac was born in Paris on November 11, 1863. He receives training in painting at the Académie libre de Bing until 1883. He is a good friend of Armand Guillaumin, who calls Signac's attention to the Impressionists. Especially works of Claude Monet impress him deeply. Paul Signac and others found the "Société des Artistes Indépendants" in 1884, exhibiting their works in its first salon.
The same year Paul Signac gets to know Georges Seurat, who had developed his pointillist style of Divisionism and Neoimpressionism, based on the theories of the physicist Chevreul. This style's main characteristic is the application of the colors in small dots (points) or short lines (touches) onto the canvas, the motifs can only be recognized from a distance, they, so to speak, form in the eye of the beholder. Main representatives of Pointillism are, besides Georges Seurat and Paul Signac, also Camille Pissarro and the Dutch Jan Toorop. Also Vincent van Gogh is inspired by the style.
After the death of Georges Seurat in 1891, Paul Signac becomes the movement's spokesman, throughout his life he feels obliged to the movement and its ideas.
Paul Signac regularly travels to the small village of St. Tropez, in order to paint, as of 1892. He sails to Corsica, Italy, Holland and to Constantinople, on these journeys he makes numerous spontaneous watercolors on papers of harbors and ships. Afterwards he uses these watercolors for pointillist paintings in his studio.
Signac is regarded as the most important graphic artist of Neoimpressionism, besides lithographs in colors he also executes etchings.
Paul Signac becomes president of the "Société des Artistes Indépendants" in 1898. A year later he writes "D'Eugène Delacroix au Néo-Impressionnisme". He dies in Paris on August 15, 1935.
+
Sold lots by
Paul Signac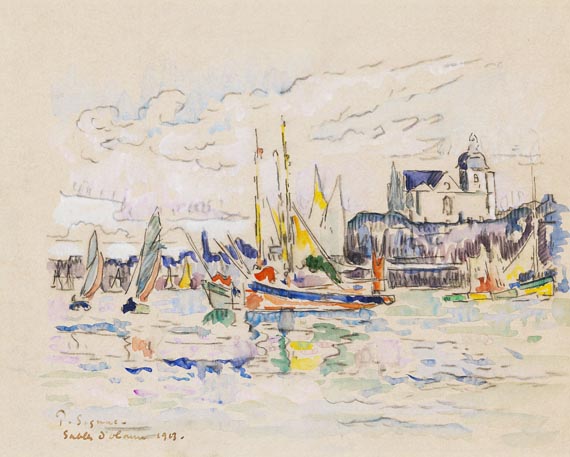 You might also be interested in