The international auction house for buying and selling of
Georg Herold
Biographies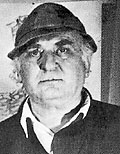 Georg Herold
* 1947 Jena
Since the 1980s Georg Herold belongs among the big names of German contemporary art.
Georg Herold was born in Jena in 1947. He grew up in the former GDR and completed the first part of his education in Halle between 1969 and 1973.
The young could not bear the restriction in the GDR, an attempt to flee his home country led to his arrest in 1973. Georg Herold was sentenced to prison, but the Federal Republic of Germany paid for his release.
In West Germany Georg Herold initially lived in Munich and enrolled at the Hamburg Art Academy in 1977. Until 1983 he studied under Sigmar Polke and became friends with representatives of the "Neuen Wilden" (New Wild Artists) in Hamburg, namely Werner Büttner, Martin Kippenberger and Albert Oehlen, and was active in this "wild" circle.
However, Georg Herold was a real "wild artist" for a short time only, he soon became emancipate from the movement and developed his own independent and critical pictorial language with a strong ironic notion. He executes his works both in figurative, as well as abstract manner. Characterized by a tense aesthetic, they often cross the borders of the genres. Paintings and works on paper, as well as installations, sculptures and objects are part of his versatile oeuvre. Unusual odd materials, such as roof laths, buttons, nylon panties or bricks are commonly used and, despite their actual lack of meaning, they make for a convincing contrast with the profound and complex statement of his works. Lately Georg Herold has become increasingly occupied with the human figure.
Works by Georg Herold, who holds a post as professor at the Düsseldorf Art Academy since 1999, are in possession of renowned international collections and museums, such as the Stedelijk Museum voor Actuele Kunst in Gent, the Frankfurt Städel Museum, the Amsterdam Stedelijk Museum or the Museu d'Art Contemporani de Barcelona. Georg Herold lives and works in Cologne.
+
Sold lots by
Georg Herold