The international auction house for buying and selling of
Alberto Burri
Biographies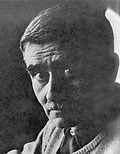 Alberto Burri
* 1915 Cittā di Castello
† 1995 Nizza
The Italian painter Alberto Burri counts among the most important artists of informal post-war abstraction. His focus was on experimenting with different materials.
Alberto Burri was born at Cittā di Castello (Perugia) in 1915. In 1934 Alberto Burri enrolled at the University of Perugia and began to study medicine. He completed his studies in 1939 and worked as military doctor in north Africa.
In World War II Alberto Burri was an American prisoner of war. When he was released in 1946, he decided to discontinued his doctor's career. Alberto Burri went to Rome and dedicated himself to his true passion: painting.
The first abstract works, for which Alberto Burri applied oil paint and tar on canvas ("Catrame"), were made at the end of the decade. Around 1952 Alberto Burri, who had started the"Gruppo Origine" in 1950 together with Mario Ballocco, Giuseppe Capogrossi and Ettore Colla, began making his famous material experiments. Metals, nails, plastic, wooden pieces and sackcloth became part of his gestural-abstract and expressive works.
In 1953 Alberto Burri went to the U.S.A., where he lived and worked for the rest of the decade. In 1960 he returned to Rome. Alberto Burri continuously kept developing his material pictures that oscillate between object and painting and likewise touch the tendencies Informel, Arte Povera and Neodada.
In 1973 he made the first "Cretto". Pictures composed of a layer of burned clay with intended surface cracks. In 1976 Alberto Burri transferred this technique to more monumental works and created the "Grande Cretto Nero" as outdoor sculpture for the Los Angeles University.
Alberto Burri, who participated in documenta exhibitions 2, 3 and 7 in Kassel, had countless solo shows over his career. On occasion of his 100th birthday, the New York Solomon R. Guggenheim Museum organizes a comprehensive retrospective in honor of Alberto Burri.
In 1995 Alberto Burri died in Nice.
+
Sold lots by
Alberto Burri