Sale: 430 / Rare Books, May 23./24. 2016 in Hamburg

Lot 499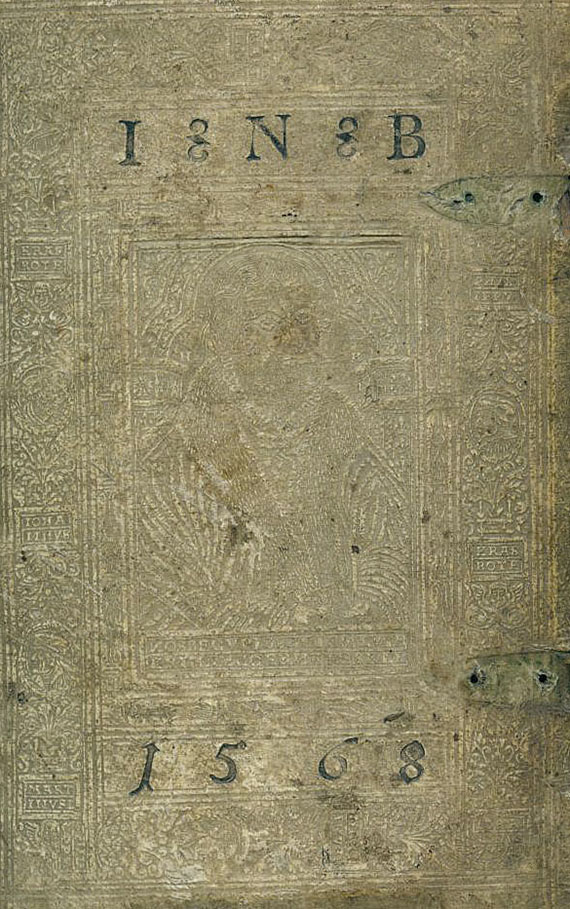 499
Tragoediae, 1568.
Sold:

€ 516 / $ 598
(incl. 20% surcharge)
Lot description
Euripides Tragoediae, quae hodie extant, omnes, Latine soluta oratione redditae, ita ut versus versui respondeat. E praelectionibus Philippi Melanthonis. Cum praefatione G. Xylandri. Frankfurt, L. Lucius 1562. Blindgepr. Schweinsldr. über Holzdeckeln, monogr. "I N B" und dat. 1568. VDeckel mit Reformatorenrolle und Mittelplatte mit Lutherporträt (sign. "H K"). 8vo. 4 Bll., S. 17-1049 (recte 1047).

Überarbeitung einer Nachschrift der lateinischen Übersetzung Philipp Melanchthons von dem Heidelberger Grazisten Wilhelm Xylander (erschien erstmals 1558). - Kollation so vollständig (vgl. VD 16 und Knaake). - 2 Bll. der Einleitung und 1 Bl. am Ende angerändert, Titel mit Namenszug. - Angeb.: Lukian von Samosata , Dialogi coelestes, marini, & inferni, in gratiam Graece discentium selecti. Straßburg, J. Rihel 1563. 111 num., 1 nn. Bll. - Griech.-lat. Ausgabe. - Schweiger nennt eine frühe Ausgabe von 1537 in Griechisch (S. 195). - Zum Einband siehe Haebler S. 232, 10 und S. 233, VIII und IX. - Rücken fleckig, Bünde berieben, Schließen inkl. Beschläge entfernt (1 mit Einriß im Bezug), Kanten tls. beschabt.

I: VD 16, E 4222. - Adams E 1040. - Knaake II, 776. - Nicht im BM STC und bei Schweiger. - II: VD 16 L 2959. - Nicht im BM STC, bei Adams und Schweiger.

Blindstamped pigskin over wooden boards, monogr. "I N B" and dat. 1568, front cover with reformer roll and centre piece with portrait of Luther (sign. "H K" - cf. Haebler p. 232, 10 and p. 233, VIII and IX.). - Spine stained, raised bands rubbed, clasps and fittings removed (1 with tear in the cover), edges scraped.


499
Tragoediae, 1568.
Sold:

€ 516 / $ 598
(incl. 20% surcharge)
You might also be interested in
Euripides - lots sold by Ketterer Kunst