Sale: 421 / Rare Books, May 18./19. 2015 in Hamburg

Lot 437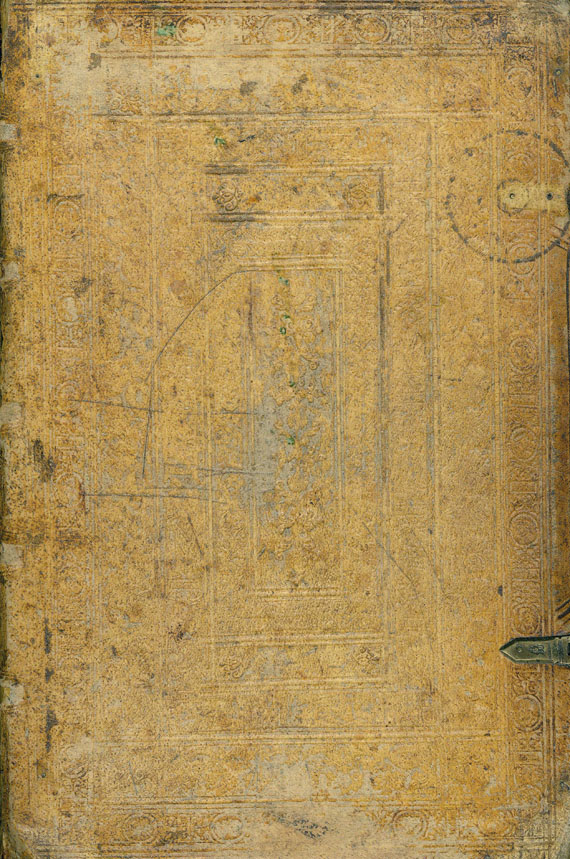 437
Historien und Bücher: Von alten Jüdischen Geschichten. 2 Tle. in 1 Bde. 1603
Sold:

€ 468 / $ 556
(incl. 20% surcharge)
Lot description
Josephus, Flavius, Historien und Bücher: Von alten Jüdischen Geschichten, zwentzig .. Vom Jüdischen Krieg, und der Statt Jerusalem, und des gantzen Lands zerstörung, siben .. Mit figürl. Holzschnitt-Titelbordüre und 110 Textholzschnitten (27 wdh.) von Tob. Stimmer sowie großer Holzschnitt-Druckermarke am Ende. Straßburg, Th. Rihel 1603. 6 Bll., 946 S., 20 Bll., 1 w. Bl. - Angeb.: Hegesippius , Fünff Bücher: Vom Jüdischen Krieg .. Mit figürl. Holzschnitt-Titelbordüre und 21 Textholzschnitten von Stimmer (aus dem Josephus wdh.). Ebd. 1603. 6 Bll., 214 S., 5 Bll. - Blindgepr. Schweinsldr. d. Zt. über Holzdeckeln. Folio.

Neunte Ausgabe bei Rihel in Straßburg. Übersetzer und Herausgeber der beiden meist zusammen verlegten Werke ist Conrad Lautenbach. "Die von Tobias Stimmer gezeichneten, von C. van Sichem und von Chr. Stimmer ausgeführten Holzschnitte gehören zu den schönsten Erzeugnissen der deutschen Formschneidekunst aus der zweiten Hälfte des 16. Jhdts." (Andresen) - Bl. 253 nur als Fragment vorhanden. Untersch. gebräunt, vereinz. fleckig und wasserrandig, Titel mit Randausriß (Bildverlust) und aufgezogen, 2 Registerbll. mit Eckabriß, vereinz. mit kl. (Rand-) Läsuren. Einbd. etw. fleckig u. berieben, Rücken und Kanten ausgebessert.

VD 17, 12:631274W und 23:266252R. - Andresen III, 155a und b. - Vgl. Goedeke II, 319, 5; Schweiger I, 178; Fürst I, 3 (andere Rihel-Ausg.).

Late Rihel-edition with the fine woodcuts by Tob. Stimmer. As usual bound with Hegesippius. Contemp. blindstamped pigskin over wooden boards. - Lacking leaf 253. - Browned, here and there stained, title with marginal piece torn out (affecting printed matter) and mounted, 2 index leaves with defective corner, few marginal defects, Binding slightly stained and rubbed, spine and edges mended.


437
Historien und Bücher: Von alten Jüdischen Geschichten. 2 Tle. in 1 Bde. 1603
Sold:

€ 468 / $ 556
(incl. 20% surcharge)
You might also be interested in

Flavius Josephus - lots sold by Ketterer Kunst