Sale: 414 / Rare Books, May 19./20. 2014 in Hamburg

Lot 608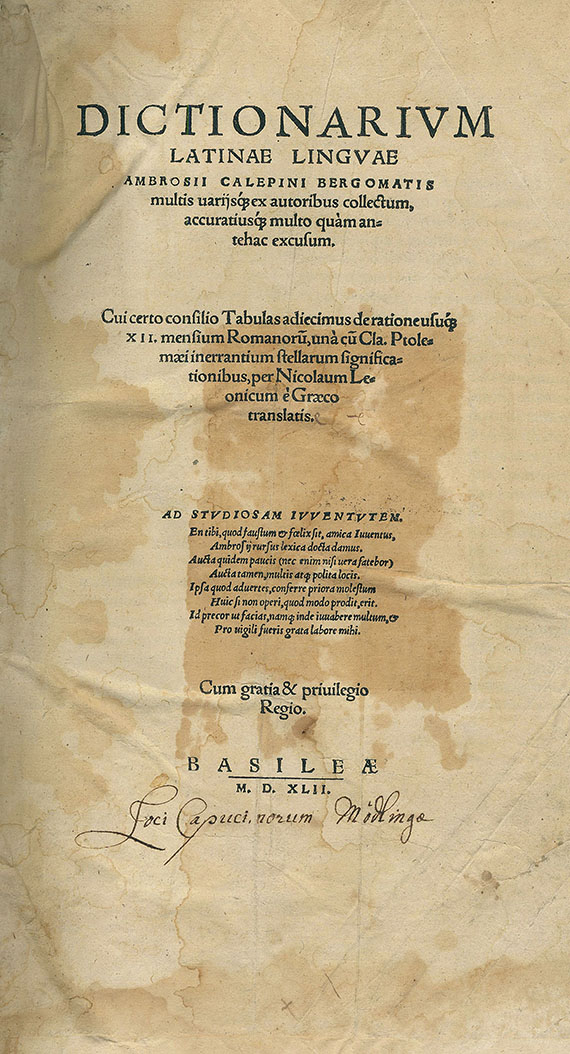 608
Dictionarium Latinae linguae. 1542.
Sold:

€ 216 / $ 252
(incl. 20% surcharge)
Lot description
Calepinus, A., Dictionarium Latinae linguae.Basel, H. Curio 1542. Schweinsldr. d. Zt. über Holzdeckeln mit Rollenprägung (Köpfe) und 2 Messing-Schließen. Folio. 540 nn. Bll. (st. 542, ohne 2 w. Bll.)

Baseler Ausgabe des bekannten Lexikons, erschien erstmals 1502. "Außerordentlich beliebt, in zahlreichen Neubearbeitungen unter verschiedenen Titeln bis auf elf Sprachen erweitert. Name des Autors lebt noch heute in mehreren Sprachen im Sinne von 'Wörterbuch' fort" (Zaunmüller Sp. 304). - Ohne das w. Bl. vor dem Vorwort und das letzte w. Bl. - Stellenw. leicht gebräunt und im R. stockfl., zu Beginn wasserrandig (erste ca. 10 Bll. mit stärkerer Feuchtigkeitsspur am unt. R., davon erste 4 Bll. tls. hinterlegt), ca. 15 Bll. mit tls. größeren Tintenspuren, Titel mit durchschlagenden Montierungsspuren eines vo. angebrachten Exlibris, vord. Innengelenk angebrochen. Kanten beschabt und am VDeckel mit Fehlstellen, Rücken mit Einrissen und kl. Fehlstelle am unt. Kapital. Trotz der beschriebenen Mängel gutes breitrandiges Exemplar in einem zeitgenöss. Einband.

Index Aurel. 129.428. - VD 16, C 242. - BM STC, German Books S. 174. - Nicht bei Adams.

Basle edition, first printed 1502. Blindstamped pigskin over wooden boards and with 2 brass clasps. - Lacking 2 white leaves (after calendar and at the end). Partly browned and foxed, waterstained at the beginning (first ca. 10 ll. with damp stains at the tail margin, ca. 4 ll. backed), ca. 15 ll. with ink stains, mounted ex libris shining through title page, front inner joint broken. Edges scraped (front cover with defective spots), spine with tears and small defective spot at foot of spine. Nonetheless good broad margined copy in contemp. binding.


608
Dictionarium Latinae linguae. 1542.
Sold:

€ 216 / $ 252
(incl. 20% surcharge)
Ambrosius Calepinus - lots sold by Ketterer Kunst