Sale: 406 / Modern Art, June 08. 2013 in Munich

Lot 105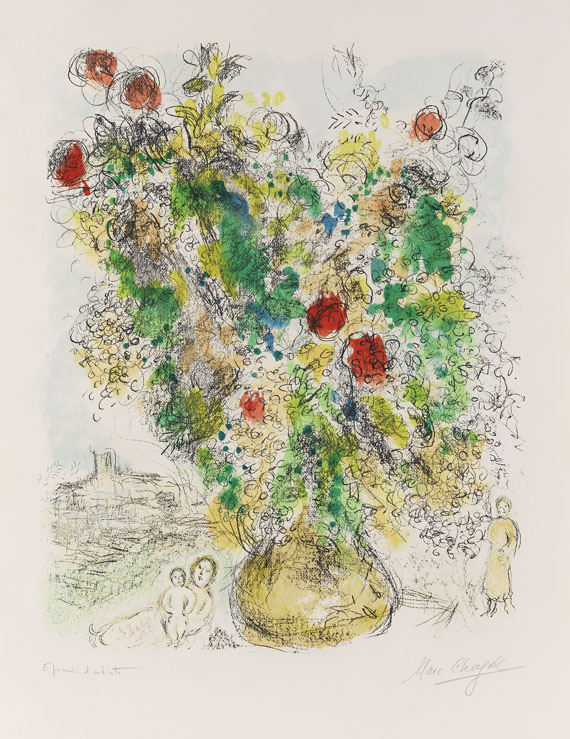 Signature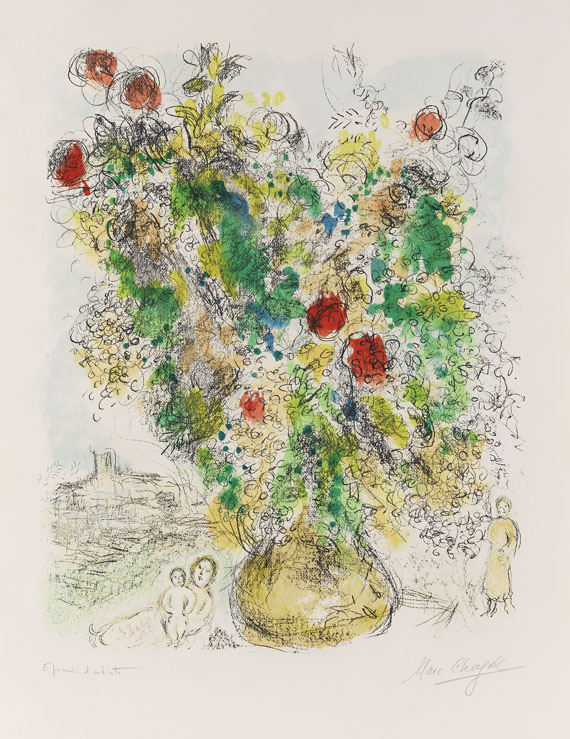 105
Rosen und Mimosen, 1975.
Lithograph in colors
Estimate:
€ 20,000 / $ 20,800
Sold:

€ 36,600 / $ 38.064
(incl. 22% surcharge)
Rosen und Mimosen. 1975.
Lithograph in colors.
Mourlot 733. Signed and inscribed "Épreuve d´artiste". Verso with date, title and inscription. Presumably one of 5-7 artist copies aside from the edition of 50. On firm wove paper by Arches (with watermark). 66 x 52,5 cm (25,9 x 20,6 in). Sheet: 82,8 x 65 cm (32,5 x 25,6 in).

PROVENANCE: Private collection Hamburg.

Chagall spends his student days at first in Witebsk, then at the academy of Petersburg under Leon Bakst, who points out Cézanne, van Gogh and Gauguin to him. The place of these influences is taken by cubist and Fauvistic tendencies, which Chagall incorporates more and more into his work from 1914 on, when he stays in Paris for four years. Chagall develops his very own style - his motifs being comprised of an unreal combination of symbolic pictures, which consist of Jewish-religious childhood experiences and Russian folk art combined with dream-like elements and the influence of the modern art discovered in Paris - only after his return to Russia. In 1919 he founds an art school in Witebsk and becomes its principal. That same year he takes over the décor and costumes of the Jewish theatre in Moscow. In 1922 Chagall leaves Russia for good and returns to France, with a stop in Berlin, where the first graphic papers and etchings for his autobiography 'My Life' emerge. Arriving in Paris in 1923, Chagall makes the acquaintance of the art trader Vollard, who commissions the illustration of Gogol's book 'Die toten Seelen'. After 100 more etchings for La Fontaine's 'fables' the bible illustrations start to develop in 1930; 105 sheets all together. Extensive trips take the artist to Palestine, Egypt, the Netherlands, England and Spain. In 1941 Chagall flees to the USA, where he lives the following six years. In this time he designs the stage sets for ballet performances of Tschaikowski ('Aleko') and Strawinsky ('Feuervogel'). After a big exhibition at the Museum of Modern Art in 1946 the artist returns to France in 1950.

Chagall, who was always concerned about the best result possible, often worked his lithographs over several times and made trial proofs for each new version. Just as it is the case with this work, this leads to ever new slight color deviations. Additionally, the unreal combination of various image motifs, coupled with the influence of modern art he had discovered in Paris, becomes obvious in this color llithograph. The oversized flower bouquet in a small vase in the foreground, surrounded by figures in a suggested landscape confirm the name that Apollinaire created at an early point: "surnaturel" (supernatural), which can be applied to all of Chagall's creation.

A few large commissions interrupt his quiet life in Vence: Chagall designs glass windows for several public buildings, e.g. the cathedral of Metz (1958), the synagogue of the Hadassah-university clinic near Jerusalem (1960) or the house of the United Nations in New York (1964). He also gets the commission for a ceiling fresco for the opera of Paris. When it is finished in 1964, Chagall starts some wall paintings at the Metropolitan Opera in New York, which are christened in 1967. Beyond that, the extensive work of Chagall includes the areas of ceramics and plastic art, at which the artist tries his hands from 1950 on. [DB].


105
Rosen und Mimosen, 1975.
Lithograph in colors
Estimate:
€ 20,000 / $ 20,800
Sold:

€ 36,600 / $ 38.064
(incl. 22% surcharge)
More offers for Marc Chagall
Marc Chagall - lots sold by Ketterer Kunst