Sale: 405 / Rare Books, May 27./28. 2013 in Hamburg

Lot 42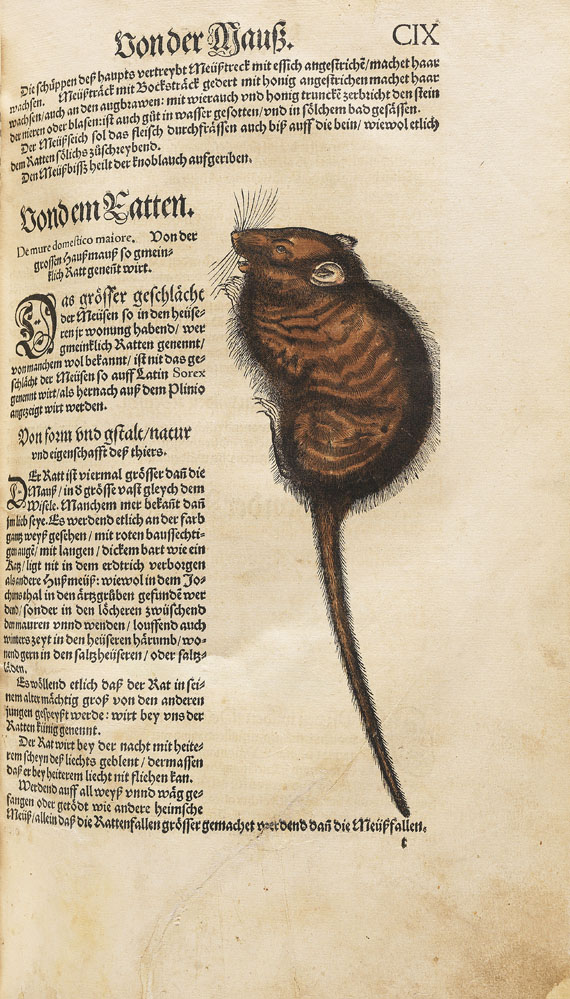 42
Thierbuch. 3 Teile in 1 Bd. 1563.
Estimate:
€ 15,000 / $ 15,900
Sold:

€ 25,200 / $ 26,712
(incl. 20% surcharge)
Gesner, C., Thierbuch. (Übers. von T. Herold und C. Forer). - Fischbuch. (Übers. von C. Forer). - Vogelbuch. (Übers. von R. Heusslein). - 3 Werke in 1 Bd. Mit altkolor. Titelholzschnitt und ca. 1000 altkolor. und tlw. ganzseit. Textholzschnitten . Zürich, Chr. Froschauer 1563, 1557 und 1563. Schweinsldr. d. Zt. über Holzdeckeln mit reicher Blind- und Rollenpräg. (auf dem vord. Deckel mit Christus am Kreuz, Christus dem Auferstandenen und Verkündigung sowie Apostelköpfen, rückseitig Propheten und Reformatorenköpfe sowie Rankenwerk) mit 2 Messing-Schließen. Folio (41 : 25,5 cm). 4 nn., 171 (st. 172) num. Bll.; 6 nn., 202 num. Bll.; 6 nn., 263 num. Bll.

Erste deutsche Ausgaben . - Schöner Sammelband mit den drei selbständig erschienenen Hauptteilen von Gesners berühmter Enzyklopädie. "An encyclopaedia of contemporary knowledge, intended to replace not only medieval compilations but even Aristotle's work of the same title .. It was many times reprinted and although it often suffered at the hands of editors, it remained the standard reference book even as late als Linné and beyond, because neither Linné nor Ray included illustrations." (PMM 77). - Unter den schönen Holzschnitten stammt die stilisierte Rhinozeros-Darstellung von Albrecht Dürer. "Gesner selbst nennt auch Dürer noch einmal als Verfertiger, fernerhin die beiden Züricher Künstler Hans Asper und Johann Thomas, für einige Vogelbilder Lukas Schrön" (Ley). Des weiteren übernahm er eine große Zahl aus den textlichen Quellen, so aus Olaus Magnus, Belone und Rondelet. - Ohne Bl. VI im ersten Teil. - Durchgeh. fachmännisch und stilvoll restauriertes Exemplar mit beilieg. ausführlichen Restaurierungsbericht des Atelier Strebel, Hunzenschwil; stellenw. noch Altrestaurierungen vorhanden. Insges. etw. fleckig und tlw. wasserrandig, stellenw. mit restaurierten Einrissen und ergänzten Fehlstellen (tls. stärker, bes. Thierbuch; 6 Bll. mit etw. Text- bzw. Bildverlust), erstes Titelbl. im unt. Fünftel und Seitensteg angerändert (ohne Textverlust). 1 Schließe stilgerecht erneuert. Trotz der beschriebenen Mängel ordentliches Exemplar in schönem Altkolorit.

VD 16, G 1728, 1734 und 1741. - Nissen 1552 und 1555 sowie Vogelb. 350 und Fischb. 59. - Ley S. 89f.

First German editions of the three major parts of Gesner's famous encyclopedia. With ca. 1000 woodcuts in text, all in fine contemp. coloring. Contemp. pigskin over wooden boards, richly blind- and rollstamped. - Lacks leaf VI in part 1. - Throughout skilfully restored copy. With some older restaurations. In general somewhat stained and partly waterstained, with restored tears and rebacked defective spots (especially Thierbuch; 6 leaves with loss of printed matter), Vogelbuch partly with marginalia by old hand, first title leaf remargined in the lower fifth and fore edge (without loss of printed matter). 1 clasp renewed in contemp. style.


42
Thierbuch. 3 Teile in 1 Bd. 1563.
Estimate:
€ 15,000 / $ 15,900
Sold:

€ 25,200 / $ 26,712
(incl. 20% surcharge)
Conrad Gesner - lots sold by Ketterer Kunst