Sale: 397 / Rare Books, Nov. 19./20. 2012 in Hamburg

Lot 86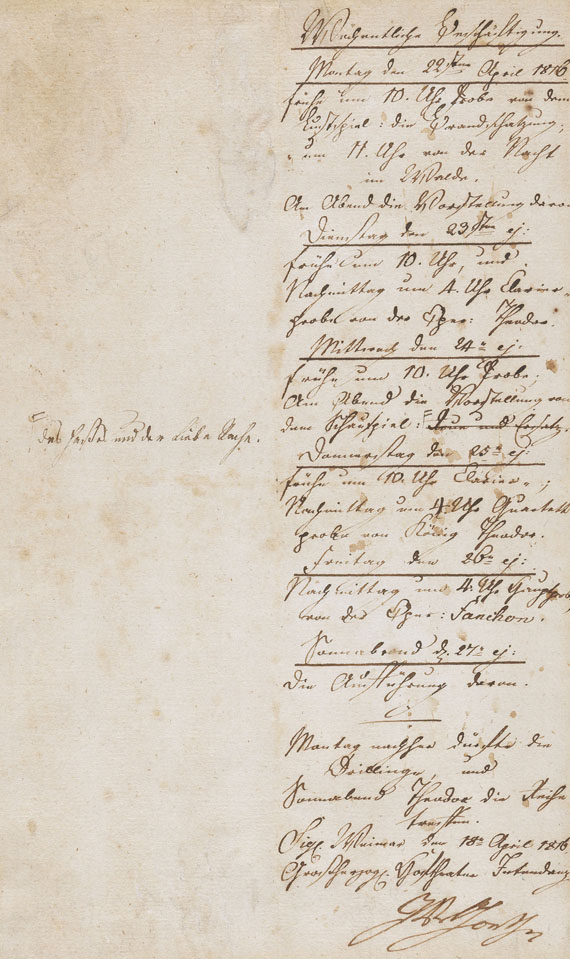 86
Johann Wolfgang von Goethe
1 Autograph. 1816.
Estimate:
€ 1,800 / $ 2,160
Sold:

€ 4,560 / $ 5.472
(incl. 20% surcharge)
Lot description
Goethe, Johann Wolfgang, Dichter, 1749-1832. Hs. Programmzettel des Weimarischen Hoftheaters mit eigh. U. "J. W. Goethe". Weimar, 18. April 1816. 1 S. 32,5 : 20 cm.

Seltenes Schriftstück aus dem letzten Jahr von Goethes Tätigkeit als Direktor des Weimarer Hoftheaters, das unter seiner Führung von einem mittelmäßigen Provinztheater zu einem hochrangigen Literaturtheater wurde. Der vorliegende Programmzettel, eine Art Wochenarbeitsplan für die Schauspieler und anderen Mitarbeiter des Theaters, enthält die "Wöchentliche Beschäftigung" von Montag, den 22. April bis Sonnabend, den 27. April 1816.
"Montag den 22ten April 1816: frühe um 10. Uhr Probe von dem Lustspiel: die Brandschatzung; um 11 Uhr von der Nacht im Walde. Am Abend die Vorstellung daran. - Dienstag den 23. ej[us]: frühe um 10. Uhr, und Nachmittag um 4. Uhr Clavierprobe von der Oper: Theodor. - Mittwoch den 24ten ej: frühe um 10. Uhr Probe; am Abend die Vorstellung von dem Schauspiel: Reue und Ersatz [durchgestrichen und seitl. korrigiert zu: Des Hasses und der Liebe Rache]. - Donnerstag den 25ten ej: frühe um 10. Uhr Clavier[probe]; Nachmittag um 4. Uhr Quartettprobe von König Theodor (..)"
Etw. fleckig, verso mit Montierungsspuren. - Seltenes Goethe-Autograph und bedeutendes Zeitdokument, das mit den hier genannten Stücken von Kotzebue, Giovianni Paisiello u. a. zwar keine hochrangige Theaterkultur erkennen läßt, dafür jedoch den leichten Geschmack des breiten Publikums, den der Dichter mit dieser Tagesware gut zu bedienen wußte.

Rare writing from the last year of Goethe's activities as director of the Weimar court theater. 1 p. 32,5 : 20 cm. Ms. program leaf of Weimar court theater, which florished under Goethe's directorship, with signature "J. W. Goethe". - Somewhat stained, verso with mounting remains.


86
Johann Wolfgang von Goethe
1 Autograph. 1816.
Estimate:
€ 1,800 / $ 2,160
Sold:

€ 4,560 / $ 5.472
(incl. 20% surcharge)
More offers for Johann Wolfgang von Goethe
You might also be interested in
Johann Wolfgang von Goethe - lots sold by Ketterer Kunst