Sale: 391 / Rare Books, May 21. 2012 in Hamburg

Lot 92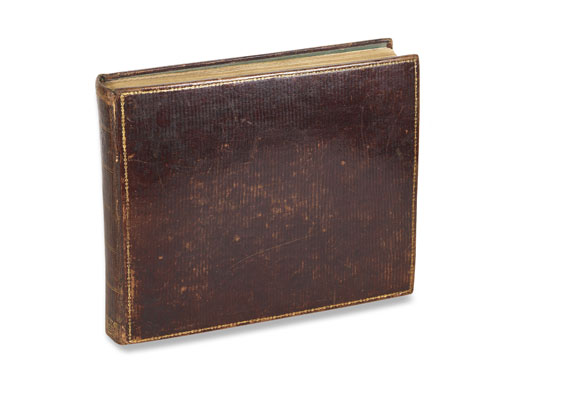 Cover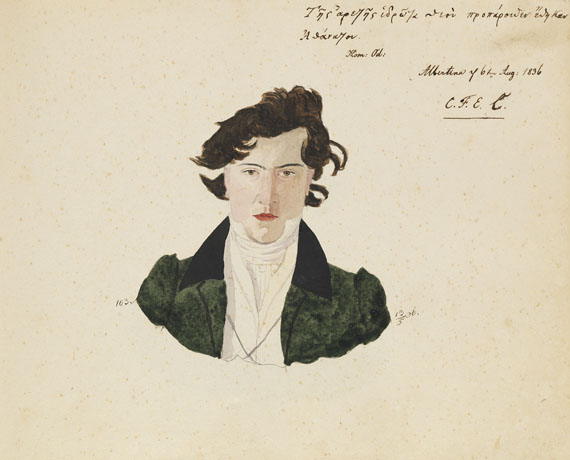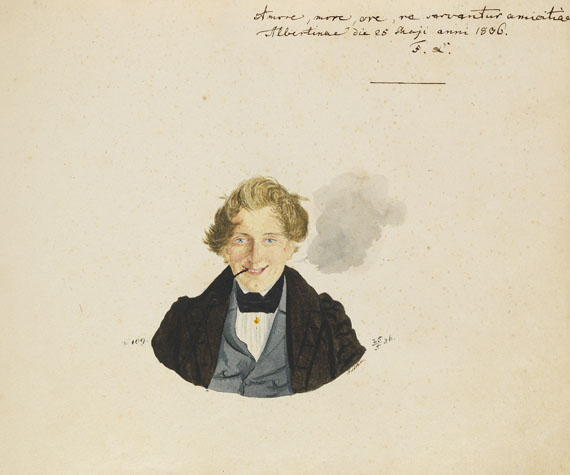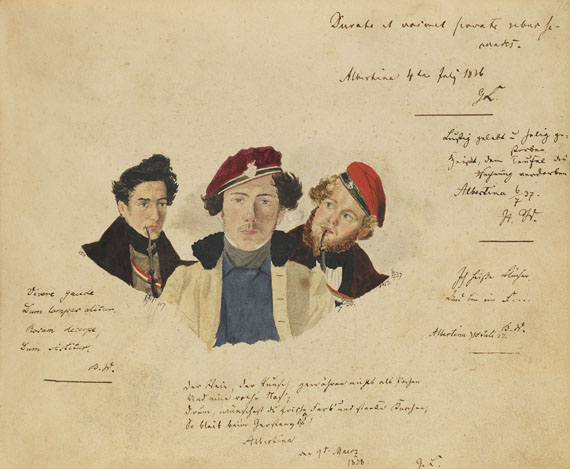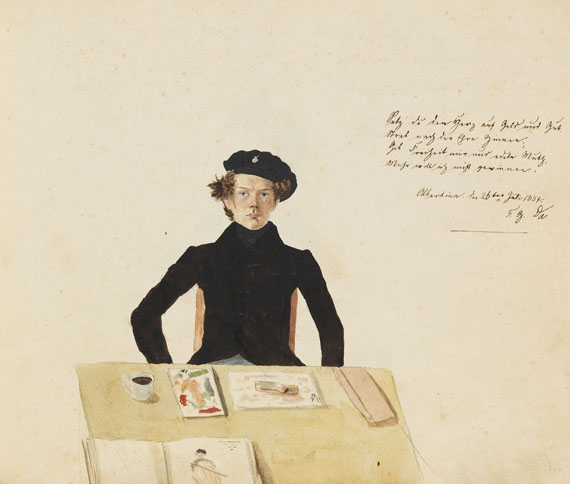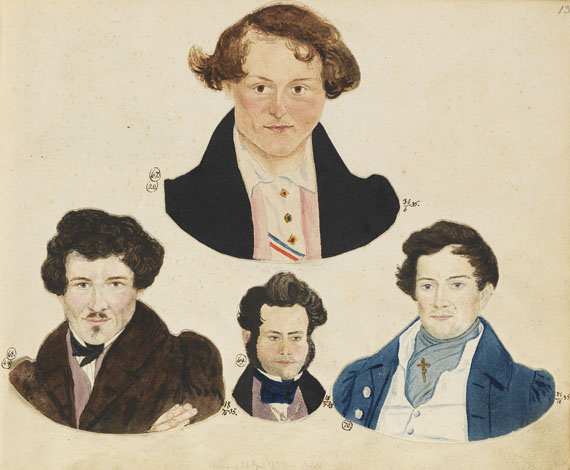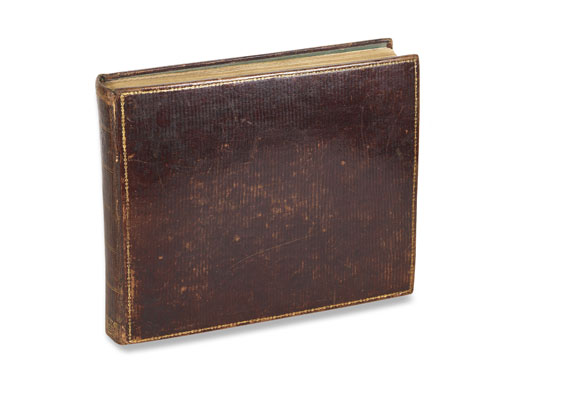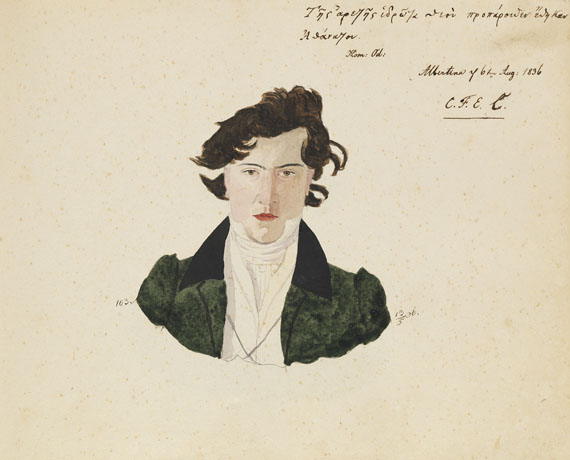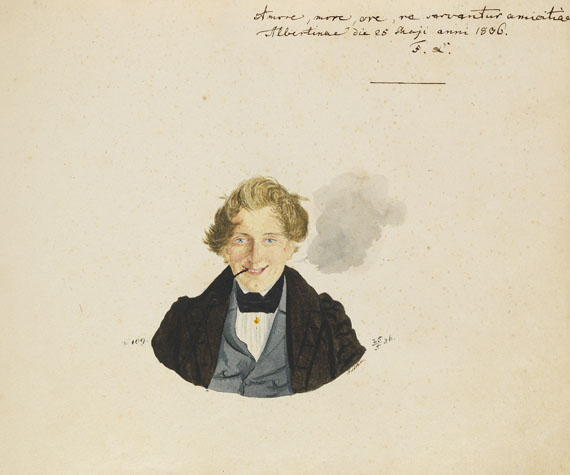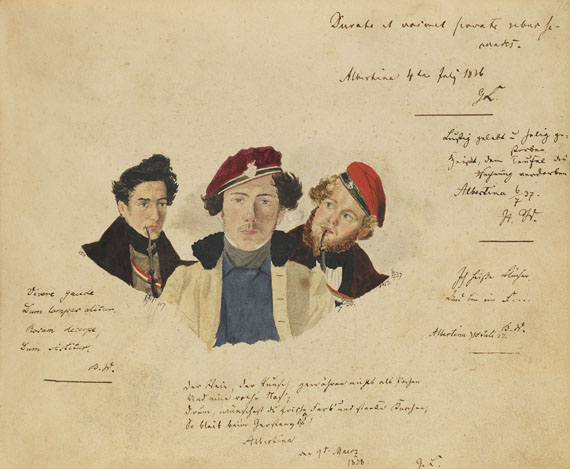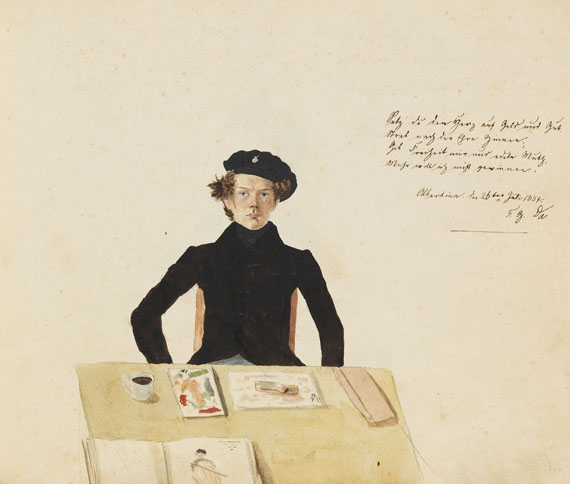 92
Schmiedeberg, Blätter der Erinnerung. 1835-39.
Estimate:
€ 8,500 / $ 7,820
Sold:

€ 15,600 / $ 14,352
(incl. 20% surcharge)
Album amicorum. - "Blätter der Erinnerung" (hs. Titel). Stammbuch des Studenten W. Schmiedeberg aus Königsberg. Mit aquarell. Titelvignette, 175 Aquarellzeichnungen (42 mont.) und 1 Bleistiftzeichnung. Königsberg 1835-39 (eine Zeichnung dat. 1827). Ldr. d. Zt. mit etw. RVerg. und goldgepr. Deckelbordüre sowie GGoldschnitt. Quer-Gr.-8vo. 192 tlw. num. Bll. (38 w.).

Bemerkenswertes zeichnerisches Erinnerungsalbum des Studenten W. Schmiedeberg von der Albertina in Königsberg. Das Stammbuch enthält insgesamt 167 Porträtzeichnungen, die Schmiedeberg, "Königsb. Balte und sp. Masur" (spät. hs. Eintrag auf Vorsatz) von seinen Kommilitonen und Kameraden im Laufe von vier Universitätsjahren an der Albertina angefertigt hat. Die qualitätvollen, ausdruckstarken Darstellungen zeigen die jungen Studenten im Brustporträt, viele pfeiferauchend, tlw. mit den Mützen und Schärpen ihrer studentischen Verbindungen bekleidet. Die Züge der Porträtierten sind mit großer Individualität ausgestattet und vemitteln so dem Betrachter einen sehr lebensnahen Eindruck von den Studenten, die tlw. erst am Anfang ihres Studiums und damit ihres Erwachsenenlebens stehen. Eine der Darstellungen, minutiös datiert mit "gezeichnet den 12. August 1839 von 12 1/2 mittags bis 2 1/2 Uhr" zeigt einen ernstblickenden jungen Mann im Spiegel und ist vermutlich ein Selbstporträt des Besitzers W. Schmiedeberg; zwei der Porträts zeigen junge Damen; die früher datierte Bleistiftzeichnung hält den Moment zwischen dem Zeichner und dem zu Portätierenden fest. - Der überwieg. Teil der Zeichnungen ist begleitet von einem durch die Porträtierten eigenh. niedergeschriebenen und datierten Motto oder Erinnerungspruch. Eine 19 Bll. umfassende Auflistung von Hand der jeweils Porträtierten, die überwieg. aus Ostpreußen und dem Baltikum stammen, nennt Namen (auch Spitznamen), Geburtsdaten sowie schulische und universitäre Laufbahn der meisten der Dargestellten; bei wenigen ist nachträgl. das Sterbedatum hinzugefügt. Die weiteren Illustrationen bestehen aus drei blattgroßen Wappenzeichnungen und kl. stammbuchtypischen Arrangements (Querflöte und Notenblatt, Grabmal mit Speeren, Schmetterling mit Puppe), einem Mantel sowie einer kl. Landschaftsszene (Brücke und Steinhaus). - Insgesamt ein einmaliges zeichnerisches Dokument und eine schöne Momentaufnahme aus dem Studentenleben vom Anfang des 19. Jahrhunderts. - Leicht stockfleckig. Einbd. etw. beschabt.

Album Amicorum, with particularly remarkable drawings, from the student W. Schmiedeberg at the 'Albertina' in Königsberg. Title vignette with watercolor, 175 watercolor drawings (42 mounted) and 1 pencil drawing. Contemp. calf with some gilt spine and gilt-tooled borders as well as gilt edges. - All in all a remarkable document of student life in the early 19th century. - Slightly foxed. Binding somewhat scraped.


92
Schmiedeberg, Blätter der Erinnerung. 1835-39.
Estimate:
€ 8,500 / $ 7,820
Sold:

€ 15,600 / $ 14,352
(incl. 20% surcharge)
Album amicorum - lots sold by Ketterer Kunst