Sale: 385 / Rare Books, Nov. 21. 2011 in Hamburg

Lot 3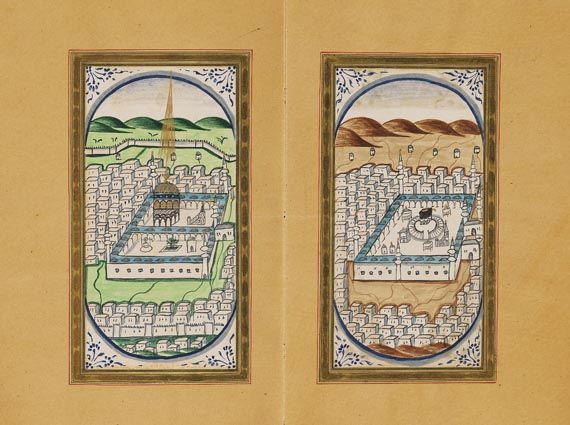 3
Arab. Handschrift des 19. Jhs., 1810.
Sold:

€ 1,320 / $ 1.452
(incl. 20% surcharge)
Lot description
Manuskripte. - Al-Jazuli, Dala'il al Khayrat. Arabische Handschrift auf poliertem Papier. Anfang 19. Jh. 120 Bll. Blattgr. ca. 17 : 11 cm. Schriftspiegel 10 : 5 cm. Schwarze und vereinz. rote Tinte mit goldenen Verstrennpunkten. Mit 2 ganzseitigen farb. Miniaturen, 25 Zierleisten und 7 kl. Medaillons, sämtlich in Gold und Farben . - Zeitgenöss. brauner Maroquinband mit reicher Deckel- und Klappenvergoldung sowie goldverziertem Schnitt und hellgrünen blindgepr. Vorsätzen mit Goldrahmen.

Prachtvolle Handschrift der berühmten Gebetssammlung, kunstvoll im Nashki-Duktus geschrieben. Die Eingansseite mit breiter arabesker Schmuckbordüre in feiner und goldreicher Ausführung, der Textspiegel jeder Seite mit breiter goldener Einfassung, zwei der schönen Zierleisten in größerer und schmuckreicher Ausführung, sechs in durchbrochener Form als Eckstücke. Die Miniaturen in Blau, Grün, Braun und Gold zeigen Mekka mit der Kaaba und Medina mit der Grabmoschee des Propheten. - Das weitverbreitete Gebetbuch Dala'il al Khayrat (dt. Segen über den Propheten), verfaßt von dem islamischen Gelehrten Abdullah Muhammed al-Jazuli (gest. 1465), ist das erste Buch in der Geschichte des Islam, das Bittgebete des Friedens und Segenssprüche für den Propheten Mohammed enthält. - Als Schreiber nennt sich am Ende der Kalligraph Hafiz Omar, genannt Chalusi aus Midilli, der urspr. Besitzer war Afif an-Naksch-bandi. - Weißes Schlußblatt mit dt. Besitzvermerk, Klappengelenk mit Einriß, Gelenk am ob. Rücken gering eingerissen. Insges. wohlerhaltene, innen saubere und breitrandige Handschrift.

Beautiful Arabian manuscript of the famous "Dala'il al Khayrat", a popular collection of prayers written by Al-Jazuli (died 1465 AD). Early 19th century. 120 leaves. Sheet size ca. 17 : 11 cm. Black and red ink on polished paper. With 2 fullpage miniatures in colors, 25 panels or cornerpieces and 7 marginal medallions, all in gold and colors. Written by the calligrapher Hafiz Omar called Chalusi from Midilli, the initial owner was Afif an-Naksch-bandi. Contemp. brown morocco richly gilt with limegreen embossed endpapers. - A blank leaf at end with mod. ownership inscription, joint of the flap slightly torn. Well-preserved and finely executed manuscript, stainless and with wide margins.


3
Arab. Handschrift des 19. Jhs., 1810.
Sold:

€ 1,320 / $ 1.452
(incl. 20% surcharge)
More Images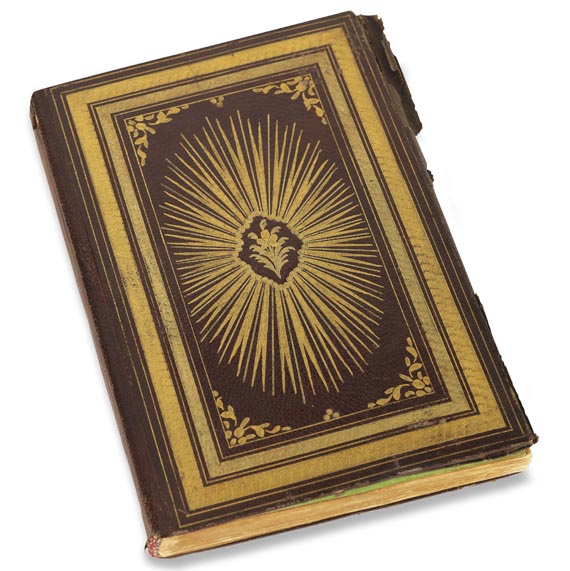 Cover