Sale: 379 / Rare Books, May 23. 2011 in Hamburg

Lot 182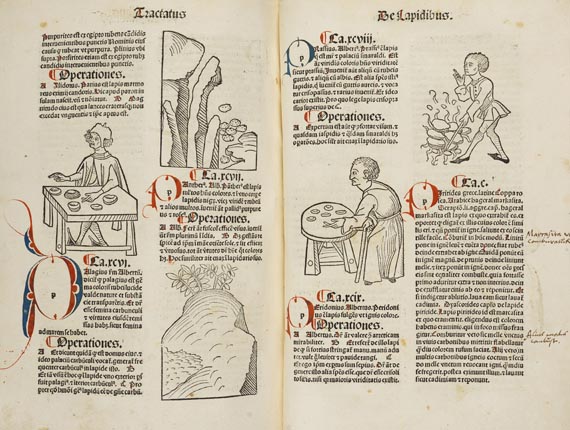 182
Hortus sanitatis. 1491 26(S9)
Estimate:
€ 25,000 / $ 28,500
Sold:

€ 26,400 / $ 30.095
(incl. 20% surcharge)
Lot description
Hortus Sanitatis. Mit ca. 790 Holzschnitten (von 1073) sowie eingemalten Lombarden in Rot (darunter 27 größere in Rot und Blau). Mainz, Jacob Meydenbach, 23. Juni 1491. Kalbldr. d. 19. Jhs. Folio. 310 (st. 454) nn. Bll. Got. Type, 2 Spalten. 48 Zeilen und Kolumnentitel, tlw. rubriziert.

GW 13548. - Hain/Cop. 8944. - Goff H 486. - BMC I, 44. - BSB H-388. - Schreiber 4247. - Schramm XV, S. 7. - Klebs, Early herbals 45. - Fairfax Murray 193. - Garrison/Morton 96. - Nissen, Bot. 2362. - Hunt 8. - Bibl. Schäfer 170. - Erste Ausgabe . Gänzlich umgearbeitete und stark erweiterte Fassung des Gart der Gesundheit , eines der schönsten Holzschnittbücher des 15. Jahrhunderts , reich illustriert mit Holzschnitten zu den Bereichen Botanik, Zoologie, Heilkunde und Mineralogie. - Die Holzschnitte stammen von verschiedenen Reißern und Formschneidern. "Unter ihnen ragt der Schöpfer der kleinen Holzschnitte mit den menschlichen Betätigungen heraus, dem auch einige der sieben großenEröffnungsholzschnitte zu den Kapiteln zuzuschreiben sind und der identisch ist mit dem Meister II des Heidelberg/Mainzer Totentanzes. Hingegen sind die meisten Tier- und Pflanzenbilder Werkstattarbeit und nach den Holzschnitten des Straßburger Gart der Gesundheit kopiert, die letztlich auf den Mainzer Herbarius zurückgehen. Einige der 150 neu hinzugekommenen fußen auf dem Meister E.S." (von Arnim) - Von den vorhandenen 310 Bll. sind 124 Bll. ergänzt aus mind. 2 anderen Exemplaren von etw. kleinerem Format. - Tlw. gering gebräunt und vereinz. etw. fleckig. 3 Bll. beschädigt, 5 Bll. stärker eingerissen (Fehlstellen), 10 Bll. mit gr. Fehlstelle (Text- oder Bildverlust, unschön ausgebessert), wenige Holzschnitte altkoloriert, Schnitt gebräunt. Einbd. berieben, Rücken alt erneuert, Innengelenke verstärkt. Aus der Slg. William Foyle.

First edition. Completely revised and increased version of 'Gart der Gesundheit', one of the 15th century's prettiest woodcut books. With ca. 790 woodcuts (of 1073) as well as lombards drawn in red (among them 27 larger in red and blue). 19th century calf. Folio. 310 (of 454) unnumb. ll. Gothic type, 2 columns. 48 lines and column title, partly rubricated. - Of these 310 ll. at hand some 124 ll. have been taken from at least 2 other copies of a slightly smaller format. - With slight browning in places and some isolated stains. 3 ll. defective, 5 ll. stronger torn (defective spots), 10 ll. with large defective spot (loss of image or printed matter, uncomely mended), few woodcuts in old coloring, edges browned. Spine renewed in former times, inner joints reinforced. From the collection William Foyle.


182
Hortus sanitatis. 1491 26(S9)
Estimate:
€ 25,000 / $ 28,500
Sold:

€ 26,400 / $ 30.095
(incl. 20% surcharge)
More Images