Sale: 379 / Rare Books, May 23. 2011 in Hamburg

Lot 113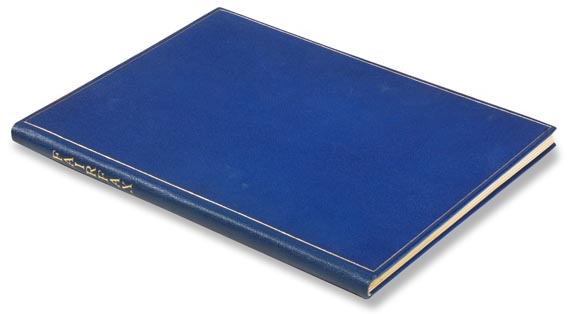 Cover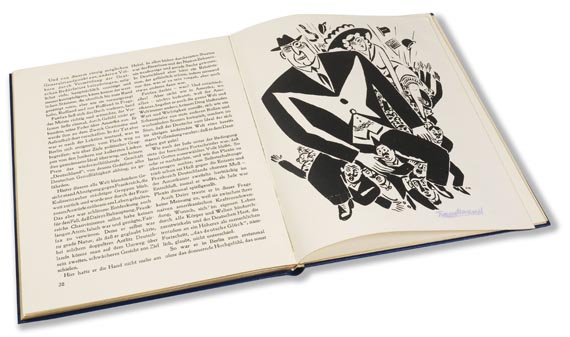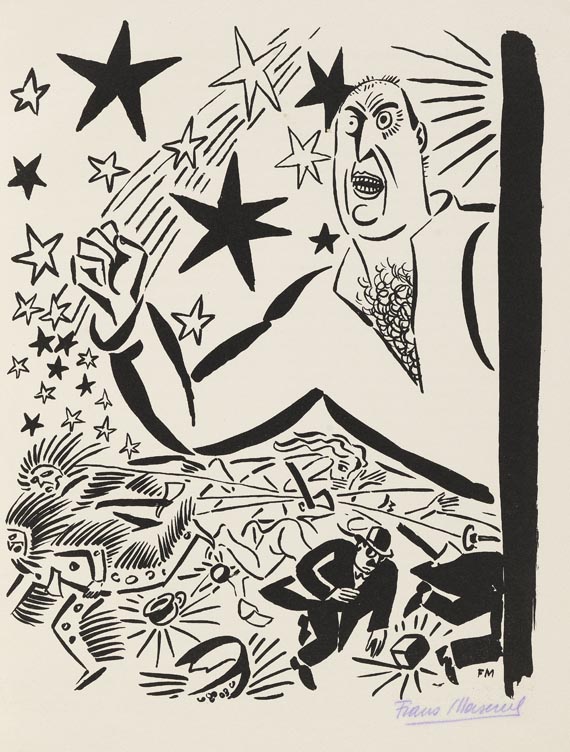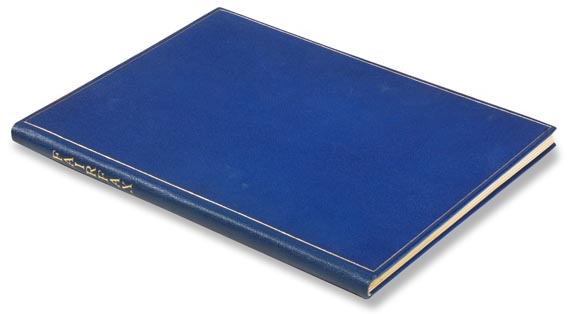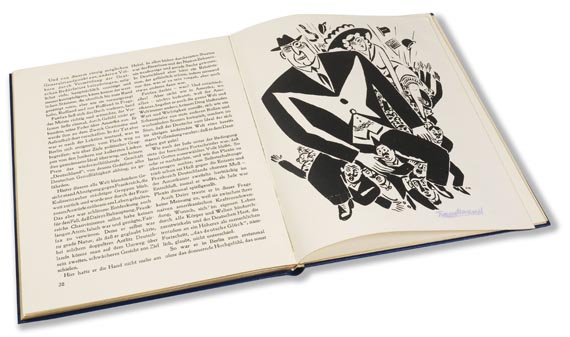 113
Sternheim, Fairfax. 1922
Estimate:
€ 2,000 / $ 2,000
Sold:

€ 4,800 / $ 4,800
(incl. 20% surcharge)
Masereel, F., Sternheim, C., Fairfax. Geschmückt mit 10 Lithographien. Mit 1 Orig.-Zeichnung und 10 sign. Orig.-Lithographien von F. Masereel. Berlin u. a. Galerie Flechtheim 1922. Blauer OSaffianbd. mit goldgepr. RTitel, goldgepr. Rahmenfileten auf beiden Deckel, goldgepr. Signet der Galerie Flechtheim auf dem RDeckel und GGoldschnitt. 4to.

Ritter C a 24. - Von der Gabelentz C 39. - Jentsch 120. - XVII. Druck der Galerie Flechtheim . - 1 von 10 (GA 200) num. Exemplaren der Vorzugsausgabe auf starkem Zandersbütten mit einer Orig.-Vorzeichnung von F. Masereel, die separat unter Passepartout beiliegt. Druckvermerk vom Verfasser und Künstler signiert. - Über die Illustrationensfolge äußerte sich Sternheim in der Zeitschrift Querschnitt : "Über den Schwarzweißkünstler Masereel steht das europäische Urteil fest: ein Phänomen! .. Ich preise mich glücklich, daß Masereel sich entschlossen hat, Fairfax zu illustrieren. Hätte das Buch durch seine eigenen Qualitäten keine Hoffnung, in der Ewigkeit einzugehen, ist ihm durch Masereels Bilder diese herrliche Zukunft gewiß. Seht Euch mit Andacht jedes einzelne, aber seht Euch vor allem das an, wo die dicke Stute den Präsidenten bepißt und alles nur ein Auge dafür ist, oder jenes, wo Scheyn-Weyn-Reitzenstein als Mischung von Gent und Lohengrin Daisy zum Vorspreizen ihres Beines bringt. Ich versichere, ich habe als Deutscher viel in letzter Zeit gelitten und manches durchgemacht, Masereels himmlische Bilder zum Fairfax aber haben mir wieder bewiesen: manchmal ist Leben doch feine Sache." (zit. nach Jentsch). - Rechte obere Ecke (Einband und Text) mit Stauchstelle, insges. schönes und sauberes Exemplar der seltenen Vorzugsausgabe.

1 of 10 (complete print run 200) numb. copies of the de-luxe edition on strong laid paper by Zanders with an orig. drawing by F. Masereel. and 10 signed orig. lithographs. Blue orig. morocco with gilt lettering, gilt fillet borders on both boards, gilt-tooled signet of the Galerie Flechtheim on rear board and gilt edges. Upper right corner (binding and text) with squeeze mark, all in all fine and clean copy from this rare de-luxe edition.


113
Sternheim, Fairfax. 1922
Estimate:
€ 2,000 / $ 2,000
Sold:

€ 4,800 / $ 4,800
(incl. 20% surcharge)
You might also be interested in
Frans Masereel - lots sold by Ketterer Kunst