Sale: 373 / Rare Books including Marine Art, Nov. 22. 2010 in Hamburg

Lot 491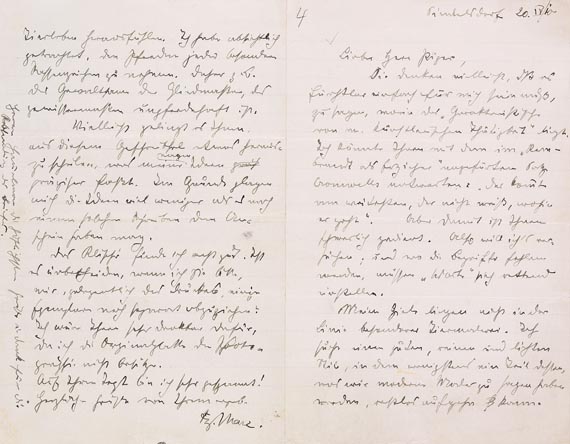 491
Autograph: Über die Kunst (20.4.1910)
Estimate:
€ 5,000 / $ 5,500
Sold:

€ 5,280 / $ 5.808
(incl. 20% surcharge)
Lot description
Marc, Franz, Painter, graphic artist, 1880-1916. Autographed and signed letter to the Munich publisher Reinhold Piper. Sindelsdorf, 20. IV. (19)10. 8vo. 4 pp.

Insightful letter by the animal painter, delicering information on his self concept as an artist. " .. Sie denken vielleicht, daß es furchtbar einfach für mich sein muß, zu sagen, woring das "Charakterischtis von m[einer] künstlerischen Thätigkeit" liegt. Ich könnte Ihnen mit dem im "Rembrandt als Erzieher" angeführten Satz Cromwells antworten: "Der kom[m]t am weitesten, der nicht weiß, wohin er geht." Aber damit ist Ihnen schwerlich gedient. Also will ich's versuchen; und wo die Begriffe fehlen werden, müssen "Worte" sich rettend einstellen. - Meine Ziele liegen nicht in der Linie besonderer Tiermalerei. Ich suche einen guten, reinen und lichten Stil, in dem wenigstens ein Teil dessen, was wir modernen Maler zu sagen haben werden, restlos aufgehn kann. Und das wäre vielleicht ein Empfinden für den organischen "Rhythmus" aller Dinge, ein pantheistisches Sich Hineinfühlen in das Zittern und Rinnen des Blutes in der Natur, in den Bäumen, in den Tieren, in der Luft .., das zu "Bilde" machen, mit neuen Bewegungen u. mit Farben, die unserer alten Staffelbilder spotten. In Frankreich schult man sich seit mehr als einem halben Jahrhundert auf dieses Thema. Von Delacroix u. Millet über Degas, Cezanne zu van Gogh u. den Pointillisten führt ein geradesr Weg; und die jüngsten Franzosen sind in einem wundervollen Wettlauf nach diesem Ziel begriffen. Nur gehen sie, sondererbarerweise, dem naturlichsten Vorwurfe für diese Kunst, forgfältig aus dem Wege: dem Tierbild. Ich sehe kein glücklicheres Mittel zur "Animalisirung [sic] der Kunst" als das Tierbild. Darum greife ich danach. Was wir anstreben, könnte man eine Animalisirung des Kunstempfindens nennen; bei einem van Gogh oder Signac ist alles animalisch geworden, die Luft, selbst der Kahn, der auf dem Wasser ruht, und vor allem die Malerei selbst: diese Bilder haben gar keine Ähnlichkeit mehr mit dem, was man früher "Bilder" nannte. - Meine Plastik ist ein tastender Versuch nach der selben Richtung. Das Kreisen des Blutes in den beiden Pferdekörpern, ausgedrückt durch die mannigfachen Parallelismen und Schwingungen in den Linien. Der Beschauer sollte gar nicht nach dem "Pferdetyp" fragen können, sondern das innerliche, zitternde Tierleben herausfühlen. Ich habe absichtlich getrachtet, den Pferden jedes besondere Rassezeichen zu nehmen. Daher z. B. die Gewaltform der Gliedmaßen, das gewissermaßen unpferdehaft ist. - Vielleicht geling es Ihnen, aus diesem Geschreibsel etwas herauszuschälen, was meine vagen Ideen präziser faßt. Im Grunde plagen mich die Ideen viel weniger als es nach eine solchen Schreiben den Anschein haben mag .."


491
Autograph: Über die Kunst (20.4.1910)
Estimate:
€ 5,000 / $ 5,500
Sold:

€ 5,280 / $ 5.808
(incl. 20% surcharge)
More offers for Franz Marc

You might also be interested in

Franz Marc - lots sold by Ketterer Kunst