Sale: 366 / Rare Books including Marine Art, May 17./18. 2010 in Hamburg

Lot 13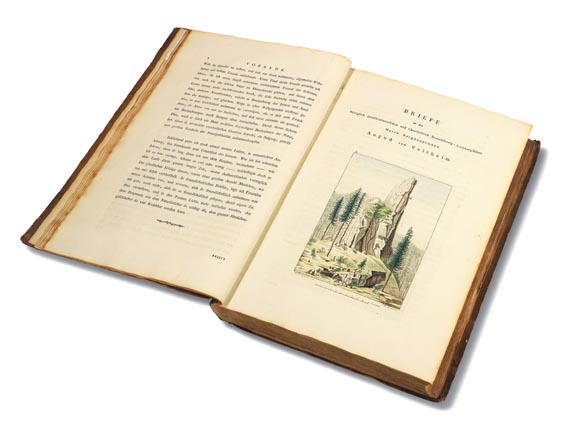 13
Erfahrungen vom Innern der Gebirge, 1785
Estimate:
€ 1,500 / $ 1,785
Sold:

€ 1,680 / $ 1.999
(incl. 20% surcharge)
Lot description
Trebra, Fr. W. H. von, Erfahrungen vom Innern der Gebirge, nach Beobachtungen gesammlet. Mit kolor. gest. Titelvignette, 4 kolor. Textkupfern und 8 kolor. Kupfertafeln (tlw. durch Mineralstaub gehöht und mehrf. gefaltet). Dessau und Leipzig, "Auf Kosten der Verlagskasse für Gelehrte und Künstler" 1785. Spät. HLdr. Folio. 3 Bll., X, 244 S.

Hoover 796. - Poggendorff II, 1127. - Ferchl S. 541. - DSB XI, 455. - ADB XXXVIII, 55 und LIV, 708. - Kippenberg 5736. - Erste Ausgabe der berühmten mineralogischen und bergwissenschaftlichen Monographie, gleichzeitig die erste geognostische Beschreibung des Harzes . - "Wir finden da ganz vortreffliche Anfänge zu einer chemischen Geologie und die ausgesprochene Neigung, den kleinen langsamen und unscheinbaren Veränderungen in der Erdkruste diejenige Bedeutung zuzuerkennen, die sie .. wirklich hat" (ADB). Das Werk enthält ferner Beobachtungen über Versteinerungen und behandelt ausführlich Erzgänge und Bergwerke. Trebra (1740-1819) wurde 1791 Berghauptmann in Clausthal und trat 1801 als sächsischer Oberberghauptmann in Freiberg an die Spitze des sächsischen Bergwesens. Er war Goethes Begleiter auf dessen Harzreise und blieb sein Freund und langjähriger geologischer Berater. Bemerkenswert sind auch die schönen Vignetten, die G. M. Kraus nach Zeichnungen von F. H. Spoerer gestochen hat. Über diese Vignetten und auch über die Mitarbeit Goethes an diesem Werk vgl. ausführlich Schmid, Goethe und die Naturwissenschaften, Nr. 414/415. - Ohne die meist fehlende Fensterklappe zu Tafel 2, dafür vorhanden die angehängte zweite Abbildung zu Tafel 5 (V b). - Vereinz. etw. stockfl. und gebräunt (Tafeln meist im w. R., 1 Taf. stärker), 2 Taf. mit Quetschspuren, Titel mit ergänztem Randausschnitt, 2 Bll. mit unschön hinterl. Randeinrissen. Einbd. leicht beschabt und bestoßen, Kap. tlw. ausgebessert.

First edition of Trebra's principal work. With colored title vignette, 4 colored text engravings and 8 colored, mostly folding plates using original mineral powder. Later half calf. – Contains the second illustration to plate 5 (V b). Lacking appendix of plate 2 (connected paper frame). Here and there foxed and browned (plates mostly in the white margins, 1 plate stronger), 2 plates with creases, title with rebacked marginal cutout, 2 leaves with backed marginal tears. Binding somewhat rubbed and scuffed, extremities of spine partly repaired.


13
Erfahrungen vom Innern der Gebirge, 1785
Estimate:
€ 1,500 / $ 1,785
Sold:

€ 1,680 / $ 1.999
(incl. 20% surcharge)
More Images