Sale: 340 / Rare Books, May 19./20. 2008 in Hamburg

Lot 50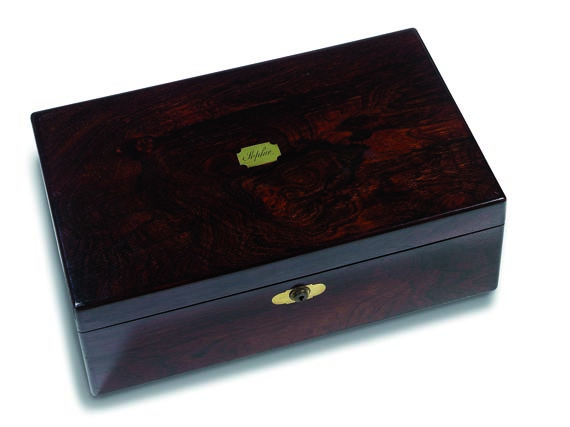 50
1 Reise-Schreibsekretär (Palisander). Innen: Zubehör + ca. 260 Briefe. 1850
Sold:

€ 3,600 / $ 4.104
(incl. 20% surcharge)
Lot description
Reisesekretär.
Kassette aus Palisander, poliert.England um 1850. Deckel mit kl. intars. Messingschild "Sophie", Boden mit Filzbezug. Innen Schreibfläche mit schwarzem Lederbezug mit gold- und blindgeprägter Bordüre, beidseit. aufklappbar. Mehrere tlw. bewegl. Fächer mit Schreibzubehör. - Maße: 40 : 24, 5 : 14 cm bzw. geöffnet in der Breite 50 cm.
Schöner Reisesekretär aus privatem Besitz in vollständiger Ausstattung. - Unter der beidseitig aufklappbaren Schreibfläche zwei große und fünf kl. Fächer für das enthaltene Schreibzubehör: ein Federhalter (Silber) mit Feder, 5 lose Schreibfedern (in kl. Schmuckdose), zwei kl. gläserne Tintenfässer mit versilbert. Deckel, Lineal und Falzbein (Elfenbein), ein Drehbleistift mit austauschbaren Minen, Siegellackstäbe und weiteres Zubehör. - Ebenfalls beilieg. ca. 260 Briefe (um 1854-64) aus der Privatkorrespondenz der früheren Besitzerin Sophie Jacob (geb. um 1837 in Süddeutschland) von ihren in London ansässigen Eltern und ihrer Schwester Jeanette J. aus Schottland, ihrem Verlobten und spät. Ehemann Ferdinand Früh (in Paris tätig), dessen Familie in Basel u. a. Ferner enth. 1 Notizbuch und 1 kl. Ledermappe. - Schreibfläche gering beschabt. Fehlt d. Schlüssel. Ansonsten schönes, wohlerhaltenes Schreibset und Reiseutensil.
Nice 19th century writing box. Polished rosewood with small brass label, inside a green leather surface with gilt border, covering five partly removable drawers with brass and ivory writing utensils. - Also included about 260 letters of private correspondence of the former owner of the box, a young German lady living in London. - Leather only slightly scraped, lacking the key. Otherwise a beatiful and well preserved set.
50
1 Reise-Schreibsekretär (Palisander). Innen: Zubehör + ca. 260 Briefe. 1850
Sold:

€ 3,600 / $ 4.104
(incl. 20% surcharge)
You might also be interested in